How to Give Your Small Bathroom a Glamorous Boost
Bathroom designs were previously strictly utilitarian, lacking the aesthetic and design principles reserved for traditional living spaces such as the living room or primary bedroom. Over the past few years, many of us have adopted working from home as the new norm. This transition sparked the evolution of the bathroom into a self-care haven. A haven from the outside world, where we can unwind, self-reflect, have deep shower thoughts and pamper ourselves with treatments previously reserved for spas and salons. 
If you live downtown, you are probably familiar with the small, condo-sized bathroom. When it comes to condo living, the bathroom is usually the first room we compromise in space. However, what your small bathroom lacks in space, it can make up in style, and even the tiniest of bathrooms can still be luxurious. Whether you have a small powder room in your home or an en-suite bathroom that feels more like a closet, there has never been a better time to transform it into a modern personal retreat while upgrading features and functions. We've put together some tips to give your little oasis that big bathroom energy.
Beautifully designed bathrooms consist of a variety of design elements — if you're not sure where to begin, think about the mood you want to create to get some ideas. 
Mirrors
Backlit mirrors and integrated lighting create a clean look and are relatively cost-effective, while wall mirrors create the illusion of space. By replacing your current mirror with one that takes up the majority of the wall, you can help open up the bathroom and make it feel more spacious. If you like your reflection from all angles (which isn't for everyone), installing a wall of mirrored tiles will instantly double the size of your space and reflect the light back. Large antique-style mirrors for a distressed look can also add character to your space. Another bonus that comes with large mirrors is that it will also eliminate any fighting for mirror time before heading off to work if you share the bathroom with a partner.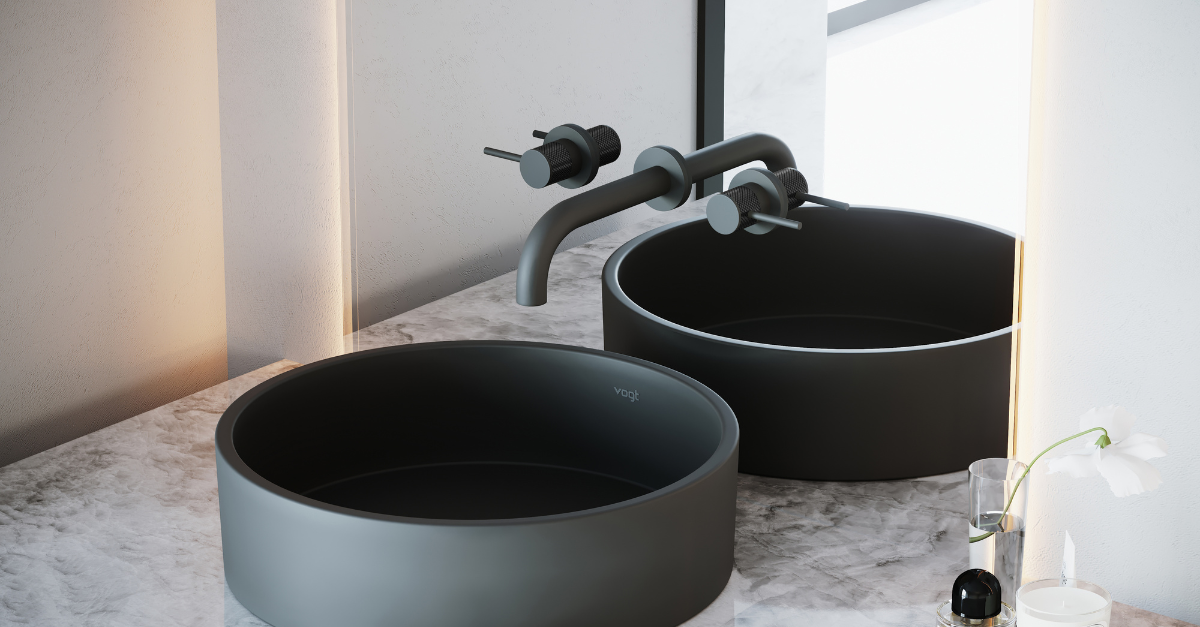 Maximize storage opportunities
Just because you've chosen a floating vanity doesn't mean you can't store items beneath it. Jute or wicker baskets under your vanity add some prestige bathroom while also providing plenty of storage space. Hiding storage behind mirrors is another great way to maximize your space.
Colour palettes and paint
A fresh coat of paint can quickly revitalize a bathroom by increasing light within the space. Going for a lighter colour for superior reflection will instantly brighten the room and give it an airy feel. If you want to incorporate darker, more matte finishes for a shadier, moodier aesthetic within your bathroom, limit it to a wall or the floor.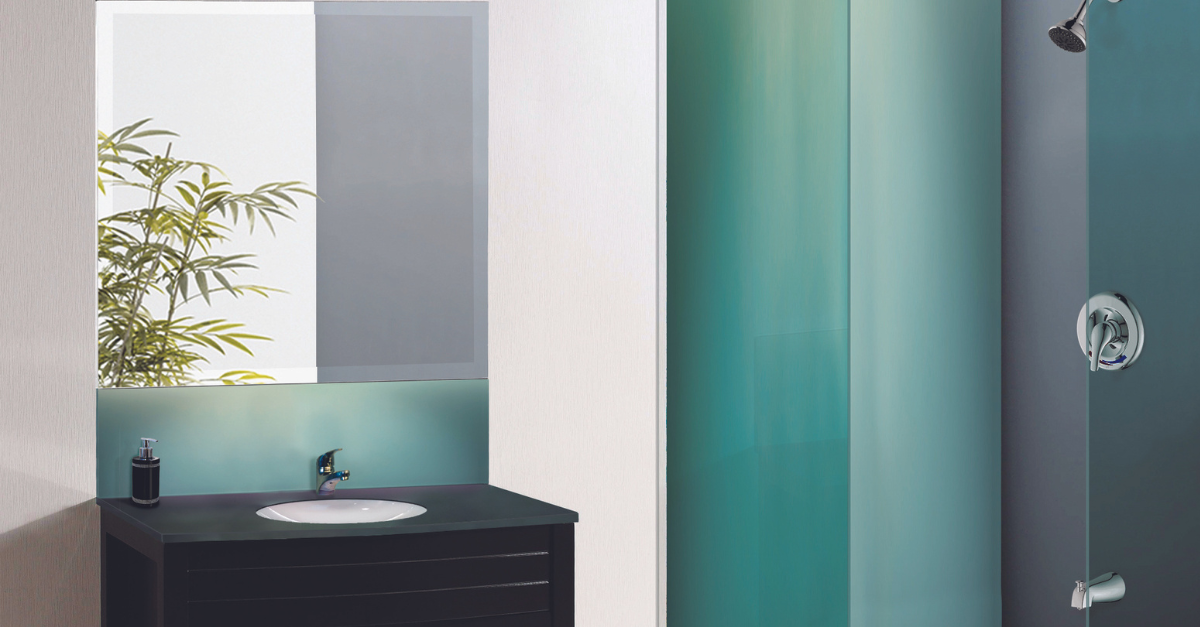 Bring the outdoors in
The outdoors is a design element in the majority of spa-inspired bathrooms. Leverage windows to bring the outdoors in and allow more light into your bathroom. If your bathroom doesn't have windows, add plants and artwork that help recreate a sense of being in nature. Teak is a gorgeous material that works well for a minimalist yet luxurious feel if you incorporate wood cabinetry.
Glass shower doors
A solid-coloured shower curtain can often close off a space and make it appear much smaller than it is. A glass shower door is an excellent option if your shower setup allows it and opens up the room. Many 5-star hotels use glass shower doors. Put your best towels on display, and you can enjoy a spa staycation at home.
Finish Strong
Glamorous and reflective materials like marble, glass, mirror and metallic finishes exude luxury and create a wow factor in the bathroom. Introducing shower systems, faucets, and fixtures with brushed gold finishes will also elevate the look. Reflective finishes also have the added benefit of brightening the room by bouncing light around. Just remember not to go overboard.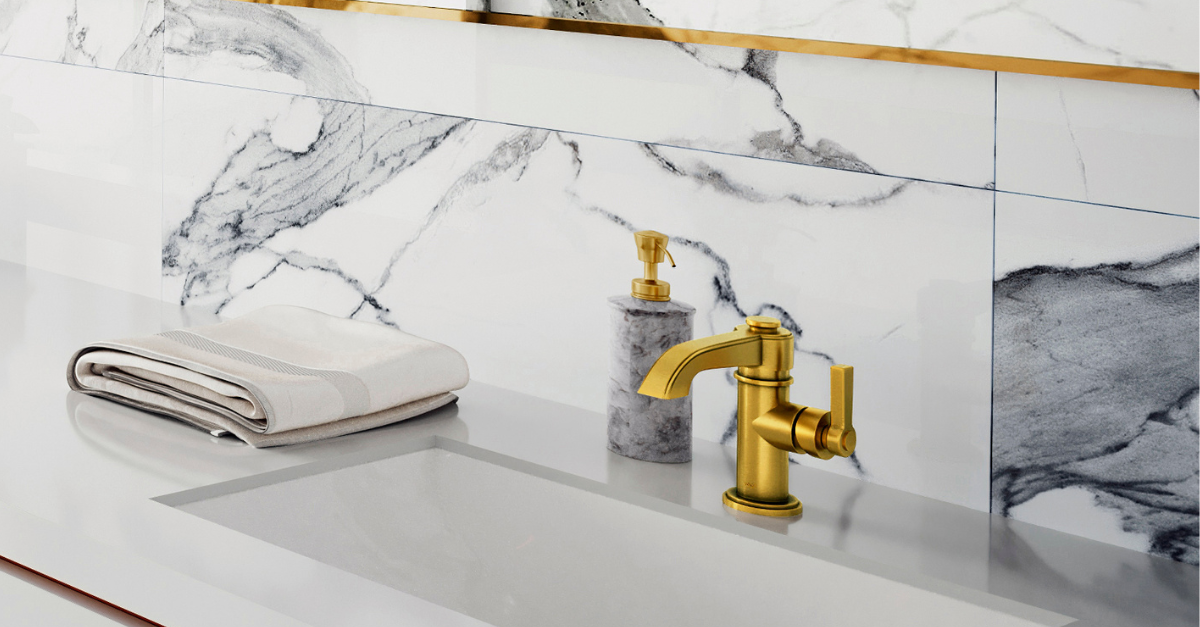 While the ideas we've provided above are relatively easy to achieve, you can also consult with an interior designer if you want to go with an entire bathroom makeover. Be sure to browse Vogt's collection of fixtures and accessories — we have something to make any room shine.