In today's fast-paced world, the kitchen is so much more than a wash-and-prep space – it's the heart of the home, where memories are made and relationships are cherished. It's a rare space where you're encouraged to embrace while creating home-cooked meals, or sitting around the table in good company. Whether it's lively dinner parties, morning coffee conversations or a clean up of dishes and daily maintenance, the kitchen fosters connection and community.
With all this in mind, it must also be functional. Designing a kitchen that seamlessly combines functionality with aesthetics is attainable and achievable, even if you don't know where to start. 
In this blog, we're breaking down the essentials, guiding you through creating your dream kitchen – one that will meet your practical needs and reflect your aesthetic taste.
Optimize your Kitchen Layout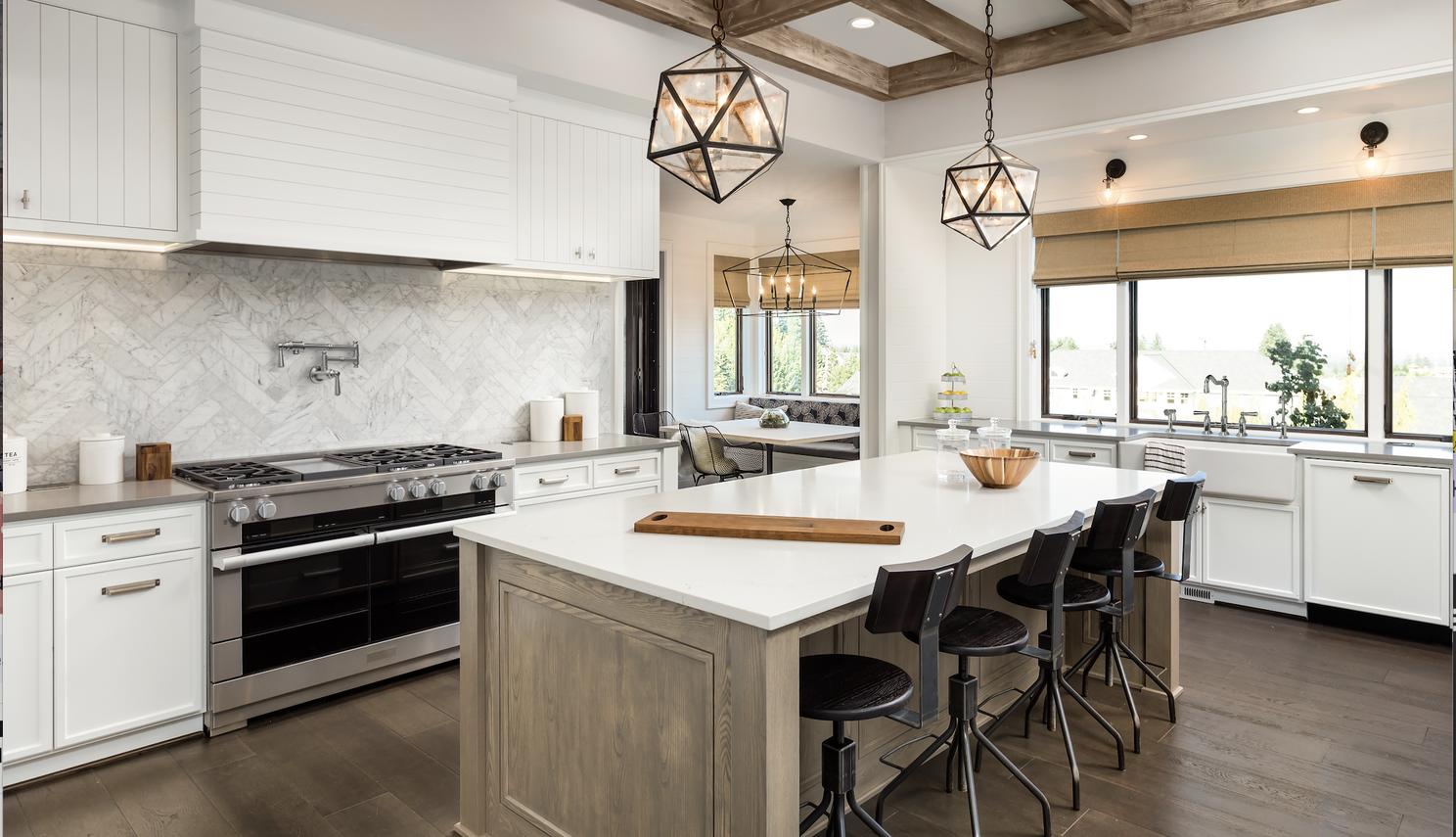 This stunning kitchen featuring new Vogt fixtures highlights dream space optimization.
The layout of your kitchen can either set you up for culinary success, or be a hindrance in the future. Strategizing your kitchen layout ensures that you move through the space efficiently, so you can cook swiftly and in style. 
Enter the "work triangle".This concept connects the three primary work zones in the kitchen: the stove, the sink and the refrigerator. Ensuring these zones are efficiently arranged and easily accessible to each other will streamline the way that you move through your space. That means less spills, fewer corner-of-the-kitchen-island bumps and more movement with ease - so you can jam out to your playlist while you cook with ease.
Considering your kitchen's size and layout will allow you to determine the best arrangement for your work triangle. If you have the room, an open layout is ideal for seamless movement between work zones. 
Alternatively, a galley or U-shaped kitchen are great options for smaller spaces, still giving you space for a convenient "work triangle" while working with a tighter amount of room.
For a deep dive into the concept of the "work triangle," check out our previous blog all about sustainable kitchen triangles featuring eco-friendly fixtures in the home!
Choose your Materials for Function & Style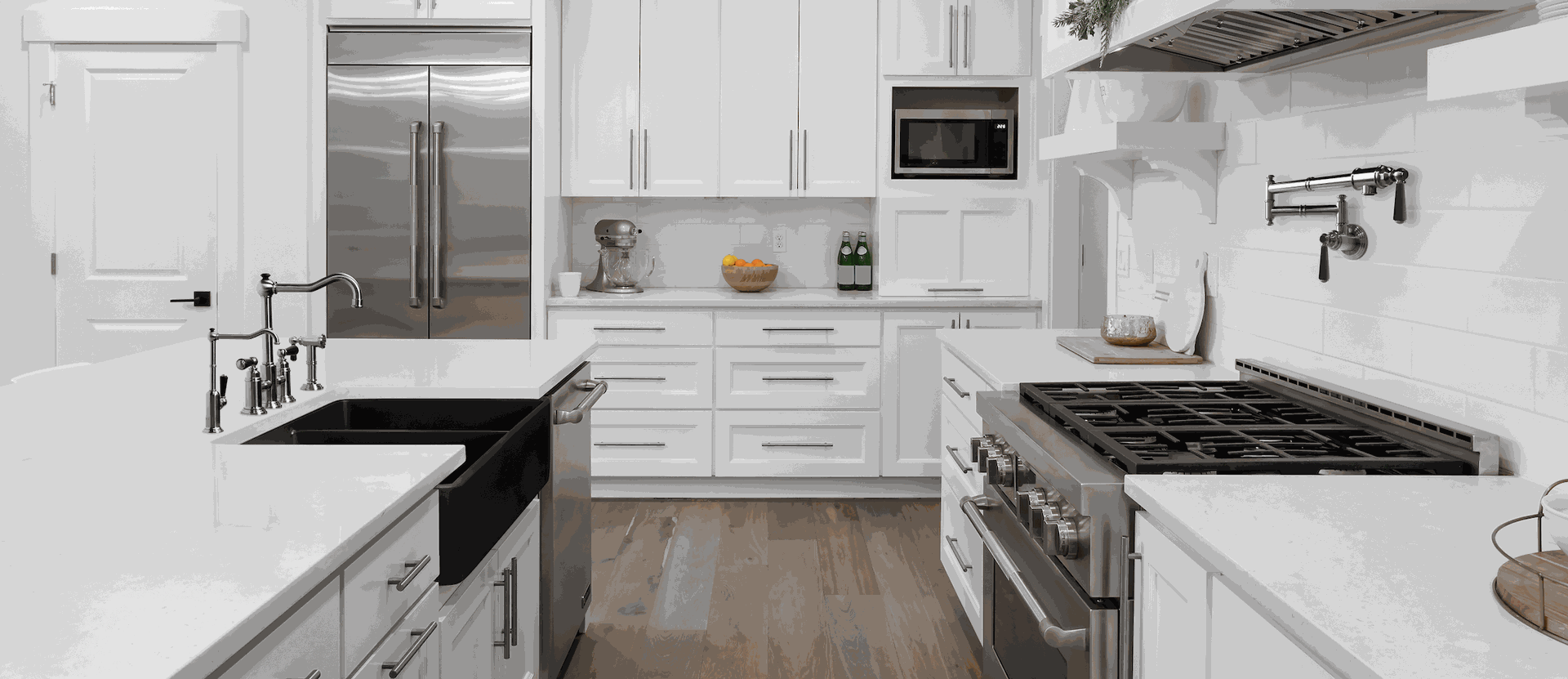 Complimentary materials shine in this kitchen.
Choosing the right materials and finishes for your unique kitchen can really make or break your space. From countertops to flooring, each element needs to uphold your kitchen's purpose – to be functional and durable, as well as a space that's easy to clean, aesthetic and inviting. 
The best place to start is assessing your personal style. To get a sense of what you're drawn towards when it comes to interior design, scroll through Pinterest, check out blogs online and search for keywords on Instagram such as #ModernBathroom. Dive into the world of interior designers and start putting together a moodboard for your space that will guide your journey. Pulling inspiration photos that reflect your personal style can help to keep you anchored when it comes time to pick your materials and decorate your space. 
When it comes to choosing materials for the kitchen, your options are endless. From quartz or granite countertops to Vogranite or stainless steel sinks, it comes down to researching the materials you're interested in and learning about the maintenance it will take to keep them looking fresh. If you tend to spill stainable liquids (we're looking at you, pickled beets), we recommend to steer clear of white marble countertops and opt for stainless steel or another stain-resistant option instead. 
When it comes to choosing the right kitchen fixtures, you're in luck! We've broken down the strategies and techniques behind choosing the right fixtures for your space before, like how to pick the perfect kitchen sink and faucet. 
Lights, Candles, Action!
Lighting can completely transform your kitchen space. Incorporate a combination of ambient, task, and accent lighting to create a beautiful, warm space. 
Ambient lighting is cozy and golden, while task lighting (such as the light above the stovetop) is specific, and accent lighting is simply a dash of extra glow. 
For lighting that combines all three considerations, opt for pendant lights above the kitchen island. Pendant lighting adds a touch of elegance to the space. You can also add under-cabinet lighting, which will not only illuminate your countertop work areas, it will also create that warm, ambient glow. 
Looking for a cozy accent touch that's affordable and easy to put in place? Buy a set of big candles and go thrifting for unique candle holders to display them in! It's an easy way to make your space feel welcoming and personal.
When it comes to designing a functional and beautiful kitchen, it's all about having a solid starting point. With the right layout, style and lighting, you can have fun playing around with artistic decor, plants, hand-painted plates and more to make the space truly your own. Welcome to the new heart of your home!