Increasing the resale value of a home is a valuable goal to keep in mind when sprucing up, renovating or designing a space. It's a smart investment – and it's to your benefit to start with the bathroom, one of the most used spaces in the home (we might be a tad biased – but we're sticking to it). 
A well-designed and thoughtfully renovated bathroom not only enhances the home's overall aesthetics,  it also adds significant monetary value to the future resale price. In this blog, we're guiding you through the key considerations when it comes to increasing a home's resale value through the categories of design choices, aesthetic additions and top-of-the-line fixtures (from the bathroom to the kitchen – this is our wheelhouse). 
Long-Term Thinking & Planning
It's important to think long-term when it comes to planning how you're going to design the home for a high resale value later – but don't worry, we've got you covered from the nitty gritty (plumbing) to broader design concepts. Choosing between multiple variations of the same style or finish for various parts of the home can feel like choosing between these two belts in The Devil Wears Prada.
But keep in mind that, at the end of the day, improving a home's resale value is more about incorporating timelessly aesthetic and functional fixtures than focusing on colour swatch details. On that note, let's dive into what you need to plan before getting started on the home renovation project!
High-Quality Plumbing Fixtures
Plumbing is an essential component of the bathroom that requires careful consideration. Vogt's PVD finish ensures that your products will be protected over time, due to its superior wear, corrosion and chemical resistance. This means that they'll retain their value for future homeowners. When it comes to remodelling the bathroom, focusing on investing in high-quality fixtures is key. Luxury faucets and fixtures, like the tub fillers and bathroom sinks in Vogt's Drava Collection, are timeless staples that will elevate any bathroom. The faucets in the collection come in a luxurious range of finishes that suit modern and classic design preferences – and they feature swivel spouts for easy operation. 
The Drava faucet in brushed gold is chic, timeless and classic 
 Durable Materials
Durability is essential to keep in mind when it comes to bathroom renovations. Over the years, the bathroom endures a substantial amount of wear and tear, from long hot baths and showers that steam up the bathroom, causing damage, to daily knicks and scratches. Opt for materials that can withstand the test of time (and water damage), like porcelain or ceramic tiles for the walls and flooring. These materials are not only long-lasting, but they also come in a variety of styles and colours to suit any design scheme – ensuring that the space will be timeless for years to come.
Stainless Steel Hardware
For a bathroom that will stand the test of time, consider brass hardware, in a finish that will complement your bathroom's design. Vogt offers a range of towel bars and bathroom accessories that provide long-lasting corrosion resistance, maintaining not only their function but their appearance! Like we talked about earlier, the condensation in the air from steam is a factor to consider, so sticking with long-lasting materials (and avoiding, say, wallpaper or fabrics) is a smart choice. All of Vogt's accessories are full brass construction with different finishes to match the showers. 
Energy Efficiency
In today's eco-conscious world, energy-efficient upgrades can be a significant selling point – especially in the climate-conscious years to come. Consider installing LED lighting and energy-efficient exhaust fans. Easy additions like these not only reduce utility costs for the current homeowner by conserving energy, but they also appeal to future environmentally-conscious buyers (and they're good for the planet, which is what truly matters). 
Focus on Timeless Style
Grounded Colour Palettes
A classic, neutral colour palette can make a bathroom feel timeless and inviting. Consider steering your client towards shades like white, beige, or grey for a clean, yet versatile look. 
For a pop of colour that will set a space apart, Vogt's Mond collection offers a variety of colour options that can seamlessly blend with any design. With 16 interchangeable colour accents to choose from, Mond's customizable touches guarantee the collection's longevity (and freshness) for years to come.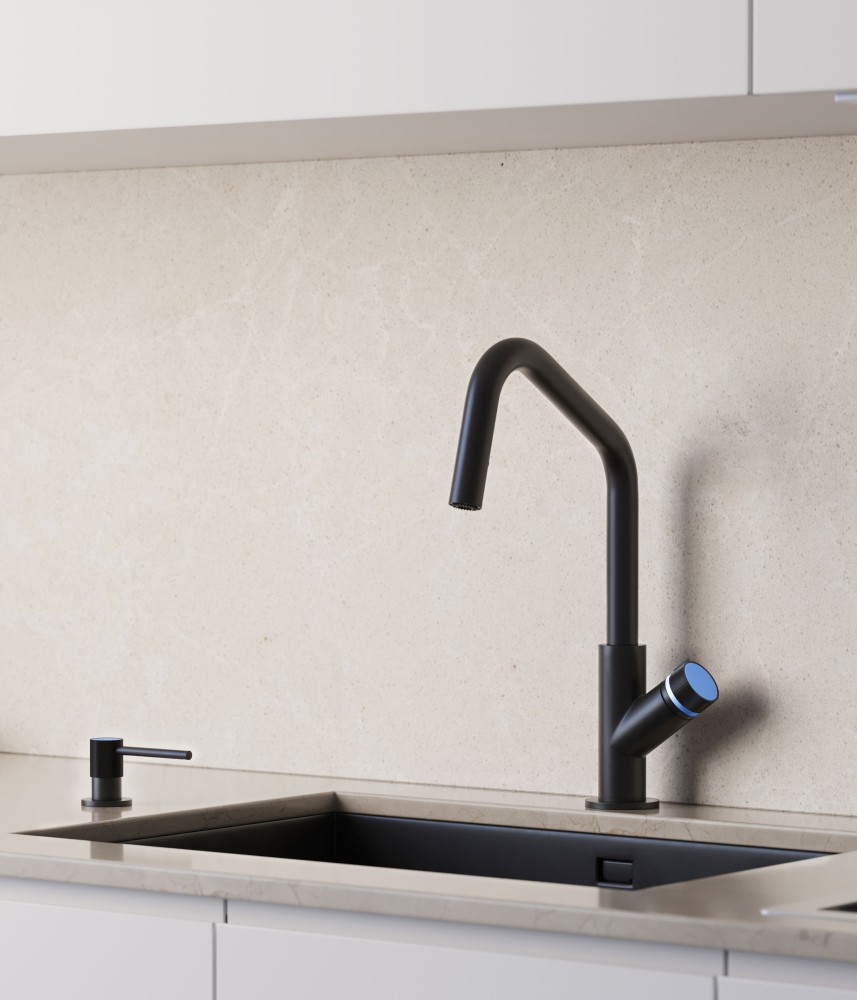 The Mond Line is the ultimate customizable collection, to suit changing moods and tastes.
 Classic Design Elements
To make your client's space feel timeless, try to incorporate classic design elements, like subway tiles, shaker-style cabinets, and pedestal sinks. Since these elements are classic and aesthetic, they will give the space a timeless charm that appeals to a variety of buyers in the future – but they're still unique enough pieces to match a specific vision.
Freestanding Bathtubs and Fixtures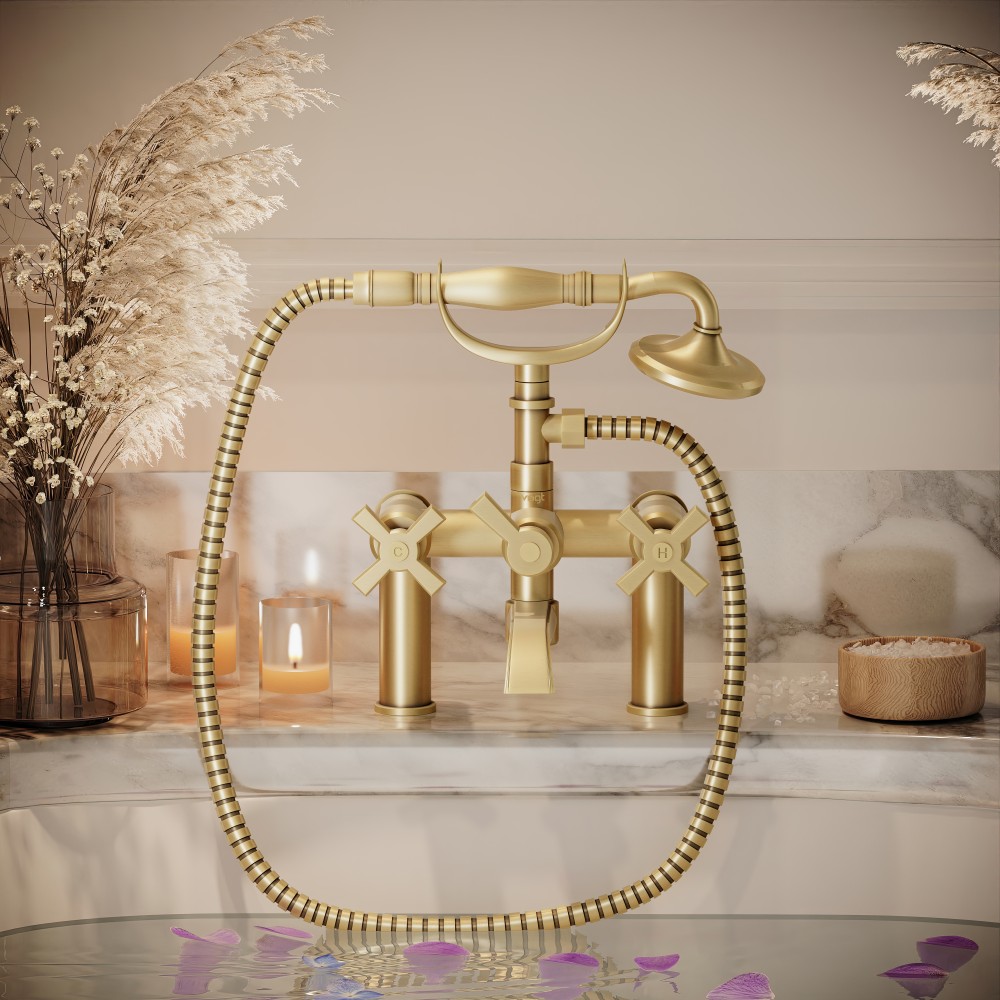 Free-standing tub fixtures are a stunning addition to the home.
For a touch of elegance, add a freestanding bathtub and tub filler to the space. Tub fillers, like Vogt's Zehn freestanding tub filler, will draw potential buyers in with an air of luxurious appeal. With a range of finishes to choose from, this faucet can seamlessly fit into any interior design scheme. Which brings us to our next destination on this journey …
Aesthetics and Trends
Choosing the Right Finish
Vogt offers stunning finishes that can elevate the aesthetics of your bathroom. From matte black to brushed gold fixtures, Vogt's finishes are timeless, and can complement a variety of styles. These finishes ensure that even if future homeowners decide to update the bathroom, the fixtures will never go out of style (classic luxury is always in fashion). 
Timeless Style and Quality
Investing in materials like stainless steel and ceramics, such as Vogt's china sinks, ensures both timeless style and longevity. Quality materials not only contribute to the bathroom's aesthetics but also guarantee durability for long-lasting beauty.
With a creative eye and careful attention to detail, you can remodel a home to increase its resale value while elevating its style and aesthetics in a modern, yet timeless fashion. For more design inspiration, check out our page!