Coming home at the end of a long day in the winter is a particular experience. Unlike in summer, when home is where you drop your bag before heading out into the heat of a night that's buzzing with possibilities, in winter home is your refuge, your sanctuary. After-work hours are spent lounging in your space, cozying up on the couch as the cold snow falls outside your window. 
To get you through these bleak winter months, we've assembled a guide to staying cozy in your space, from cooking dinner to washing the day away - with Vogt's fixtures at the heart of the story. 
When you come home at the end of the day in winter, all that you want to do is shake the cold away. You shrug off your snow-specked jacket, kick your boots into the corner and wander through the kitchen to put on a pot of water for pasta. And what's that sculptural, brushed gold fixture that you're reaching for? It's your pot filler of course, mounted above the stove. Not only is our Zehn Pot Filler a beautiful addition to your kitchen space, it's a functional component that you will wonder how you ever lived without.
Once you've scrolled on TikTok for the 7 minutes it takes to cook your pasta (al dente of course), you go to drain your pasta into one of our stainless steel sinks. As you pour the pasta into the colander you've placed at the bottom of the sink, you bask in the quick facial steam that rises from our easy-to-clean sink's depths. The benefits of stainless steel range from its antibacterial properties to its low maintenance care requirements. And with our variety of double-basket sink options, cleaning up your dinner dishes is a dream. 
After dinner, it's time to visit your home spa. There's nothing better than warming up from the cold with a steaming bowl of pasta before slipping into a scalding-hot bath that stuns you senseless. 
Taking a bath or a hot shower at the end of the day should be a romantic experience from top to bottom. You can transport yourself to a luxurious spa by incorporating elegant aesthetics and ornate touches into your space, transforming your bathroom experience.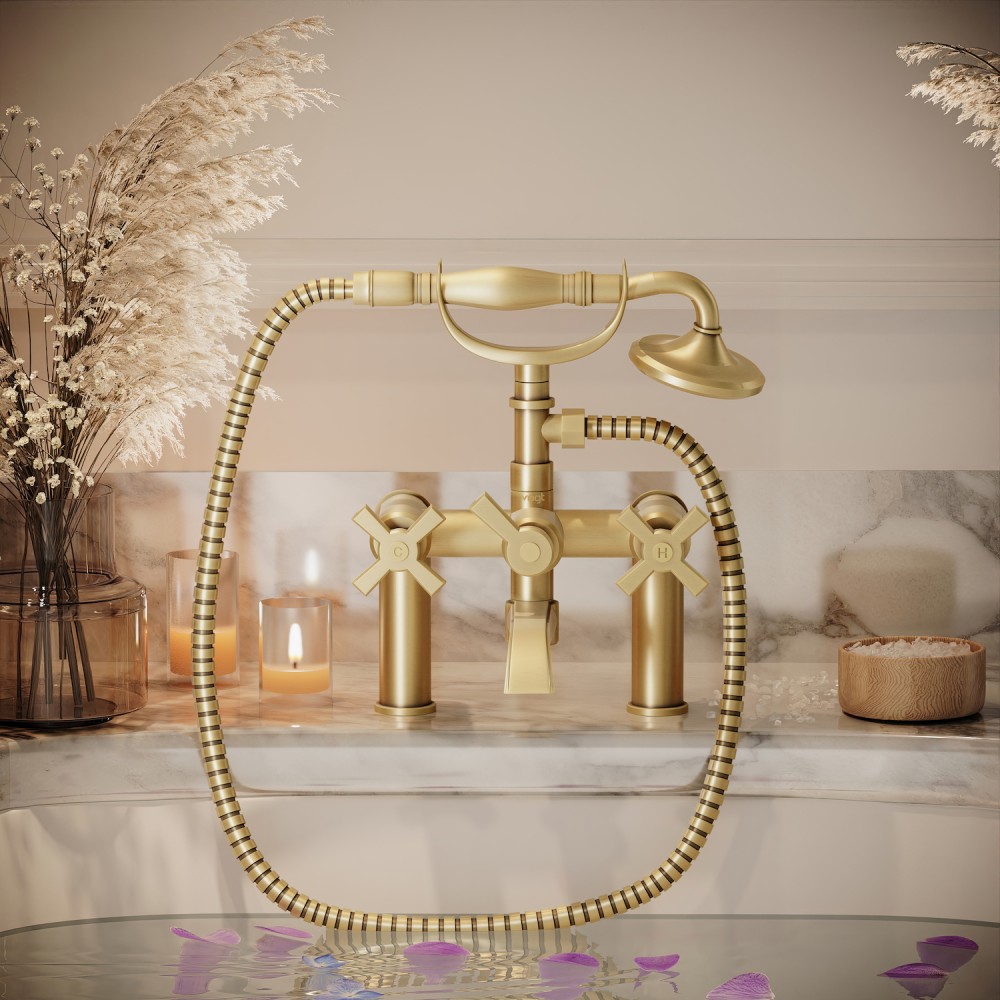 Drawing a bath with our Zehn Deck Mounted Tub Filler turns an arduous task (waiting for the tub to fill) into a meditative motion that sets the mood. The array of finishes available - from matte black and brushed gold to chrome - flicker gracefully in candlelight. 
Step out of the tub and rinse off the face mask that you applied (like the self care guru you are) at one of our glamorous vanity sinks. Available in Vogranite and Vitreous China, our vanity sinks are durable and decadently designed.
And just like that, you're ready to drift off to dreamland.