If you've read any interior design blogs, there is a good chance that you've heard about mood boards. Mood boards are collages that convey design concepts through photos and small objects, creating a unified "mood" or theme. Mood boards play a key role in the initial planning phase of a design project. A mood board can help when brainstorming ideas and determine the general style, mood, colours, and overall feel of a room or project space. Mood boards typically incorporate looks representing ideas between the designer and the client. Mood boards are a fantastic tool to help pair visuals with ideas, giving designers a clear vision of what the client wants in their project. Throughout the project, you can go back to your mood board to see what works and doesn't. While the concept seems simple, it can help prevent unwanted work, which can become costly and time-consuming to correct. 

Starting a new interior design project, whether remodelling a bathroom or designing a kitchen from scratch, can be both exhilarating and daunting. With so many options for paint colours, tiles, mirrors, fixtures, and other elements to consider, you might not know where to start. Mood boards are the perfect starting points for your design process. We've put together a step-by-step guide to creating a mood board for your next kitchen design project.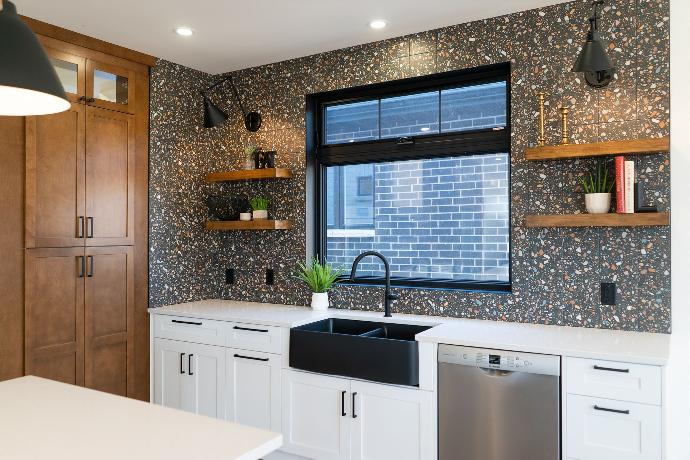 Digital vs Physical — Which board is for you?
For those who are hands-on and prefer the tactile experience of touching items before buying them, you would most likely want to make a physical mood board. You can add tangible things like paint chips, magazine clippings, and surface samples to help both visualize and give texture to your dream kitchen. However, if you're pulling inspiration directly from the internet, a digital mood board will serve you better. You can comb Pinterest and design blogs online as inspiration, opening a much greater range of design possibilities. You can make one from scratch using applications Canva, an intuitive graphic design tool, or if you're versed with creative suite, you can use Photoshop.
Ideas and Inspo
Think about the amount of time you will be spending in your kitchen. Are you a home chef? Will you be entertaining guests in your kitchen? A kitchen is a personal space and should reflect that — look to your favourite colours and patterns to help inspire initial concepts. Don't limit yourself to interior design images. Feel free to take inspiration from the world around you, such as fashion, art, a memorable place you've visited, or nature. For digital mood boards, copy and paste images you've found online or export photos you've taken with your phone. Check out furniture and home design websites for products that match your aesthetic.
For physical mood boards, you can start with something like a print, an image from a book or magazine, or even an interesting leaf you've found outside it for a tactile approach — wallpaper, paint, or flooring samples, as well as tiny accessories like hardware. Try to incorporate various colours, textures, patterns, and fixture pieces. While you might not use all of them in your design, they get the creative juices flowing. 
Revisit and Rearrange
One of the beautiful features of a mood board is that you can always revisit and change it as you see fit. Move the parts of your mood board around, experimenting with different colours, textures, and pattern combinations. You shouldn't rush a kitchen design and want to make sure that you love the theme of your new design, not just like it. Items in your mood board should be proportional to how they will actually appear in your kitchen. For example — a paint colour would cover a large area, possibly followed by a subway tiling backsplash. These items would be significantly larger than an accessory, such as a brushed gold soap dispense
Consult the Board Before Making Design Decisions
Once you've structured your mood board to your liking, it's time to start bringing it to life in the actual space. Use your mood board as a guide while shopping for fixtures and materials — if you're working with a designer, be sure to share it with them so they can reference it.  Using a mood board as a planning tool can help alleviate some of the stress that comes with kitchen design, turning the experience into a fun, creative project.