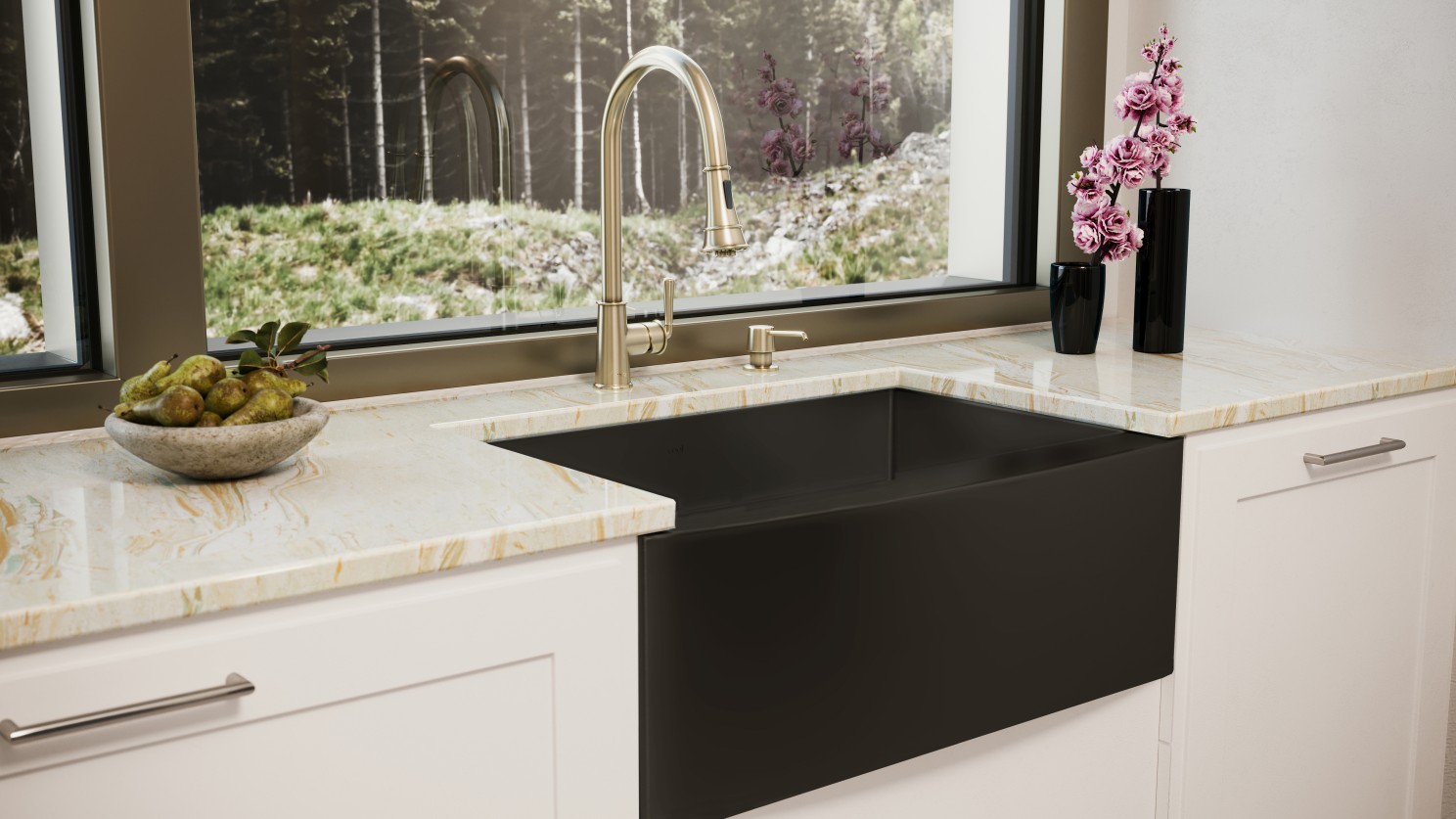 Give your space a timeless makeover with additions like Vogt's Murau Kitchen Faucet.

We have a magic trick up our sleeve. While we may not have a crystal ball, if you're reading this we can guess that you're the type of homeowner who wants to do it all by yourself, who can figure it out as they go and sees new challenges as creative opportunities. Does this sound like you? We're psychic, we know. 
While it may be tempting to dive headfirst into a renovation project without hiring help or consulting the experts, there are a few things that you should know before your take on your home remodel.
The pandemic changed the way that we live and work from home – and home renovations are on the rise. You might be looking to make more room for your family to live under one roof, or maybe you have a remote job and want to add a home office. Whatever the reason, before you undertake a home renovation, there are a few key challenges, directions and perspectives that you need to take into account to ensure that you have a smooth renovation process. Take inspiration from Canada's favourite contractor, Mike Holmes, before you start your home renovation journey to gather valuable insight and tips!
Take your time 
One of the key considerations that you should take into account before renovating is how long you've lived in your space. It's important to spend quality time getting comfortable in your space before committing to renovating. This way, you can get a feel for what you would like to change, upgrade or fix. Taking a thoughtful and deliberate approach can help you distinguish the essential tasks versus what you would impulsively or emotionally like to change - possibly bringing you over budget. 
Plus, the more time that you spend in your space before you make moves, the more time that you have to consider how all of the elements of your space work together - or don't. For example, does the tiling in your bathroom match the finish of the fixtures? Do they clash or complement one another? Paying attention to detail while considering both function and aesthetics, is key to crafting a warm, inviting home that works for you. 
Check if you need a permit
Don't underestimate the significance of whether or not a permit is required for your project. Forgoing a permit could lead to unexpected fines and charges later on. For your easy reference, here's a starting point guide to whether or not you need a permit for your home renovation: 
You definitely need a permit:
Constructing accessory buildings: If you're constructing attached or detached garages, new separate dwelling units, swimming pool enclosures, chimneys and fireplaces, you need a permit before proceeding with construction. 
Structural alterations: Any changes or renovations that alter the structure of your home require a permit. This also applies to excavating, repairing or underpinning a foundation.
Heating ventilation, air conditioning, plumbing or electrical work: All of these changes require a permit. 
Window alterations: If you're planning on adding new entrances or windows – or if you're looking to change the size of your home's entrances or windows (or close them up entirely) – you need a permit. 
Landscaping: Looking to cut down a tree on your property? You guessed it - get a permit! 
You might need a permit: 
Plumbing: A task as miniscule as moving a sink may require a permit as it will require new plumbing supply as well as drain lines.
Walls: You may need a permit for demolishing non-load-bearing walls. 
Doors and windows: If you're planning on replacing doors and windows, you most likely need a permit. If a new opening is created or an existing opening is enlarged, it requires a permit. You can learn more by reading the City of Toronto's Homeowner's Guide to Building Permits. 
You do not need a permit:
Replacing stucco, siding or shingles with the same material: You're in the clear! 
Replacing doors or windows without altering the opening: No permit in sight here.
Constructing fences: You don't need a permit to put up a fence, except for pool closure fences. 
Patching, painting and decorating: Do you see the pattern at this point? The answer is - there's no need for a permit! 
Installing cabinets or shelves: You can install cabinets and shelves until the cows come home - no permit required. 
The bottom line is that it's important to avoid permit paralysis. Before you take on your home renovation, do your research and prepare yourself to acquire the permits you need to execute your vision. Use this guide as a jumping off point before doing your own research - but for most home renovations, you likely need a permit. 
Stick to your vision 
When it comes to your home renovation project, it's crucial that you plan ahead. Aim to start prepping 3-6 months before you begin renovations to give yourself enough time to map everything out. Changing your mind mid-project can cost you a significant amount of time and money. It's best to stick to a clear vision for your project and see it through. For your design vision to be time and cost effective, you need to plan everything and pay attention to detail ahead of time.
 Check out our blog all about how to find your interior design style so your home is a perfect reflection of you.
If you're stumped on where to start, you can refer to our breakdown below! 
Step #1. The to do list. Write down a list of tasks that you need to do. Be honest with yourself about what you can take on, and what you'll need professional help to accomplish. Once you've assessed your needs, you can begin to research and reach out to the respective professionals for assistance. 
Step #2. Create a timeline. This will ensure that you tackle everything that you need to throughout the renovation process. Focus on creating a detailed plan that includes key action items. For example, a necessary step that you might not think of immediately is creating a waste disposal plan. Your future self will thank you for this forethought.  Also, remember that it's best to take your time and not rush!
Step #3: Set a budget. Try to be realistic about your expenses and know that you'll probably end up paying more than you expect. Give yourself some wiggle room so you aren't surprised later when an unexpected expense pops up. 
Step #4: Get creative. Take some time to move through your space with an artistic eye – what do you like, aesthetically? Then, consider the functional elements of your space that you'd like to change, and how you can execute that aesthetically. We'll get into this more when it comes to design, so stay tuned.
Step #5: Start to bring your vision to life. You can use a 360 modelling and design site to create your dream space virtually, or simply put pen to paper and sketch out some ideas. You can also work with a professional to make your vision come true, but it's important that you know what you want. 
Invest in your dream home 
Going with the cheapest option may seem like the most cost-effective strategy upfront, but it will likely cost you extra time and money later. Cheap materials and construction aren't built to last, meaning that you'll probably have to pay for repairs down the road. 
If you're looking for high-quality materials, work and professional help without breaking the bank, you can get quotes from local experts and compare their rates to find the most affordable option.
When it comes to the fixtures that will outfit your space, Vogt's high-quality pieces are a guaranteed investment. Vogt's products, from our luxury kitchen accessories to our tub fillers, are crafted to withstand the test of time while looking chic and aesthetic for years to come. 
Know when to hire help
You may want to tackle your entire home renovation project yourself to save money – but even when you're going to DIY your space, it's important to bring in expert help on the things that you can't do alone, such as electrical wiring, plumbing, etc. 
Hiring professional help can also end up saving you money. If a contractor damages your home in the renovation process, they are responsible for it.. However, if you DIY your entire home renovation and wind up with a few mistakes that you have to fix, those costs are entirely on you. Additionally, a contractor might be able to get the work done quicker than you can, meaning fewer months of chaotic, renovation upheaval. 
Focus on your personal style
When it comes to designing your dream home, try to hone in on the intersection between function and aesthetics, rather than focusing on quick fixes and trends that come and go. For example, when choosing the right kitchen sink, think about your specific needs. If your kitchen sink drives you crazy because the faucet splashes water over the lip of the sink, note that you need to replace it with a seamless undermount sink. From there, you can browse for  modern, high-quality sinks like Vogt's Vogranite sinks that will elevate your space and solve that pesky water-splashing issue. An Undermount sink makes cleaning up spills a dream. Since the lip of the sink is glued underneath the countertop, food and debris won't get caught underneath. Vogt's Vogranite undermount sinks are a modern addition to any kitchen space, plus they're easy to clean and crafted from our unique eco-friendly Vogranite material that is built to last and withstand scratches and stains.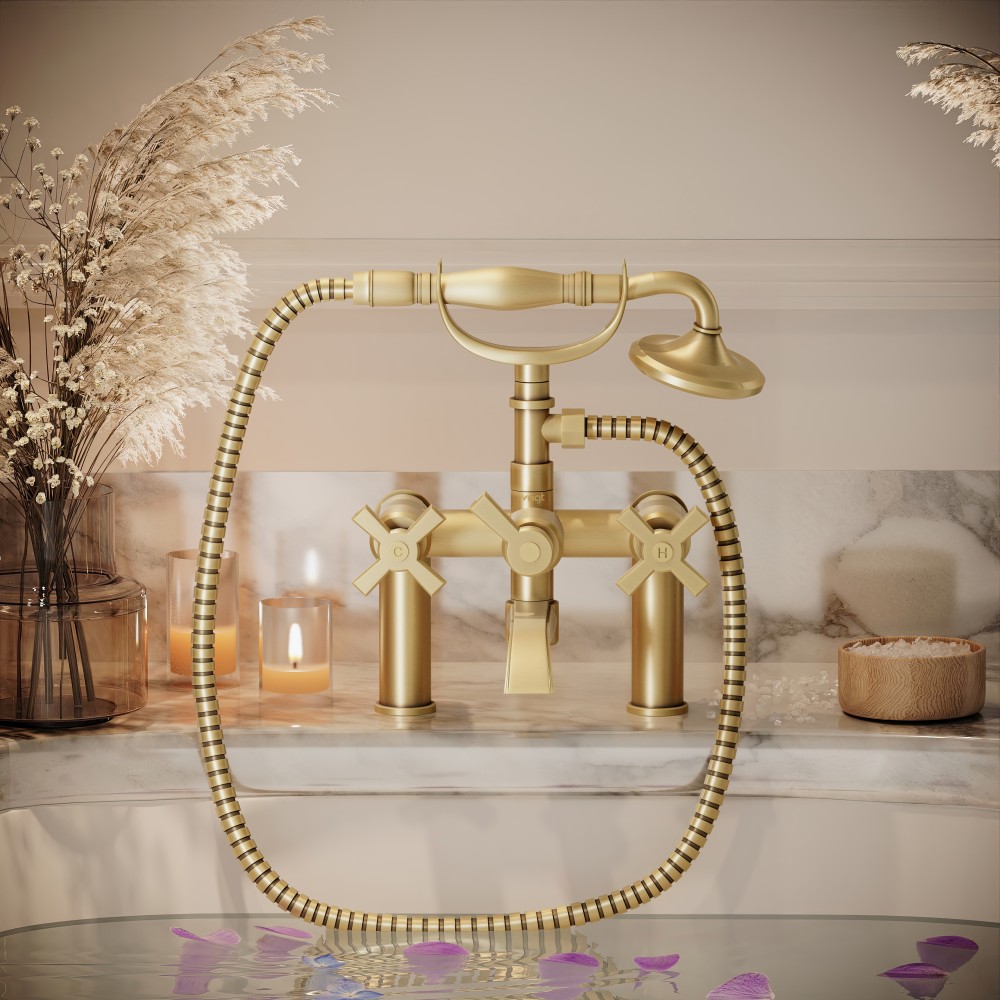 Our Zehn tub filler in brushed gold is a gorgeous centrepiece of this luxe bathroom.

 
This also goes for other elements in your space, like the shower and bath. If you find yourself constantly reaching for the tap when you're in the bath, consider adding a tub filler to make your life easier and your bath time more Zehn - no pun intended. Our Zehn tub filler in brushed gold is a gorgeous option that will elevate your space, add a luxurious touch to your bathroom, and make your life easier. It's a win win. 
 Crafting your dream home requires ample preparation, thoughtfulness and intentional effort. But the feeling of basking in your new clawfoot tub, under your bathroom skylight, or cooking in your sleek, fresh kitchen will be well worth it.  Visit the showroom locator on our website to find a location near you where you can browse our products and envision how they will complete your dream home. Visit: https://www.vogtindustries.com/fr_CA/store/locator.