Dreaming of the rustic appeal of a cottage cabin or a quaint house on sprawling, open farm fields? You can bring rustic, country charm to your home – whether you live in a city townhouse or a suburban bungalow. We've curated a comprehensive guide to help you bring your vision to life, from the colour palette to key pieces. 
What does Country-Chic Mean? 
Before diving into the details, it's essential to understand the essence of the country-chic aesthetic.
This style embodies the perfect balance between rural comfort and modern elegance. Think exposed wooden beams, vintage decor, and a neutral colour palette, combined with sleek lines and contemporary fixtures. The key lies in the harmonious blending of old-world charm with the comforts of up-to-date fixtures and the sleekness of a modern vibe.
A Touch of Country Charm
To infuse your modern farmhouse with undeniable charm, start by incorporating rustic elements. If you have the resources to do a total renovation, consider swapping out more modern wall and floor materials for exposed brick or wood beams, or add in reclaimed wooden flooring or barn doors. These larger elements will create an overall country aesthetic. When it comes to subtle touches, consider this blog your guide for easy upgrades and thoughtful additions.
Create a Neutral Colour Palette 
When you think of "country ambience", you picture slowly drifting clouds against soft blue sky and hear birds chirping. 
Capture the serene nature of the countryside in your home by decorating your space with a neutral colour palette. Shades of white, beige, taupe and soft greys are the perfect backdrop for layering rustic textures and patterns throughout your space that will add rugged, cozy charm.
Upgrade your home to match your aesthetic vision by adding fixtures in timeless, classic neutrals that play particularly beautifully against rugged textures. Vogt's range of fixtures – from kitchen sinks to bathroom faucets and tub fillers – are high-quality and complimentary to a variety of home styles and aesthetics. 
For a country-style kitchen space, opt for Vogt's Vogranite sink. With its scratch-resistant surface, not only is it a practical option, its satin black finish adds elegant romance to a rustic interior. The Java brown finish will perfectly compliment a rich, warm brown colour palette (that is very country chic). Consider adding some wooden accents to your counter space, from a wooden laminate backsplash to a beautiful, rich toned cutting board, that will beautifully contrast the Vogranite sink.
Lighting & Accents 
Striking light fixtures placed at a variety of levels will create the effect of "layered lighting" to an open, farmhouse style space. Add chandeliers, pendant lights, or wall sconces to your home to infuse it with warmth and depth (it will also highlight rich wooden tones and textures). 
To ground your space with nostalgic charm, add aesthetic touches and vintage accents. Have fun thrifting for antique treasures like vintage mirrors, distressed furniture, and weathered frames to decorate your space. Mixing and matching these elements with contemporary designs will create an eclectic, countryside atmosphere. From lacy-trimmed lamps to dried flowers and paintings of natural landscapes, these accents don't have to break the bank.
Add Aesthetic Fixtures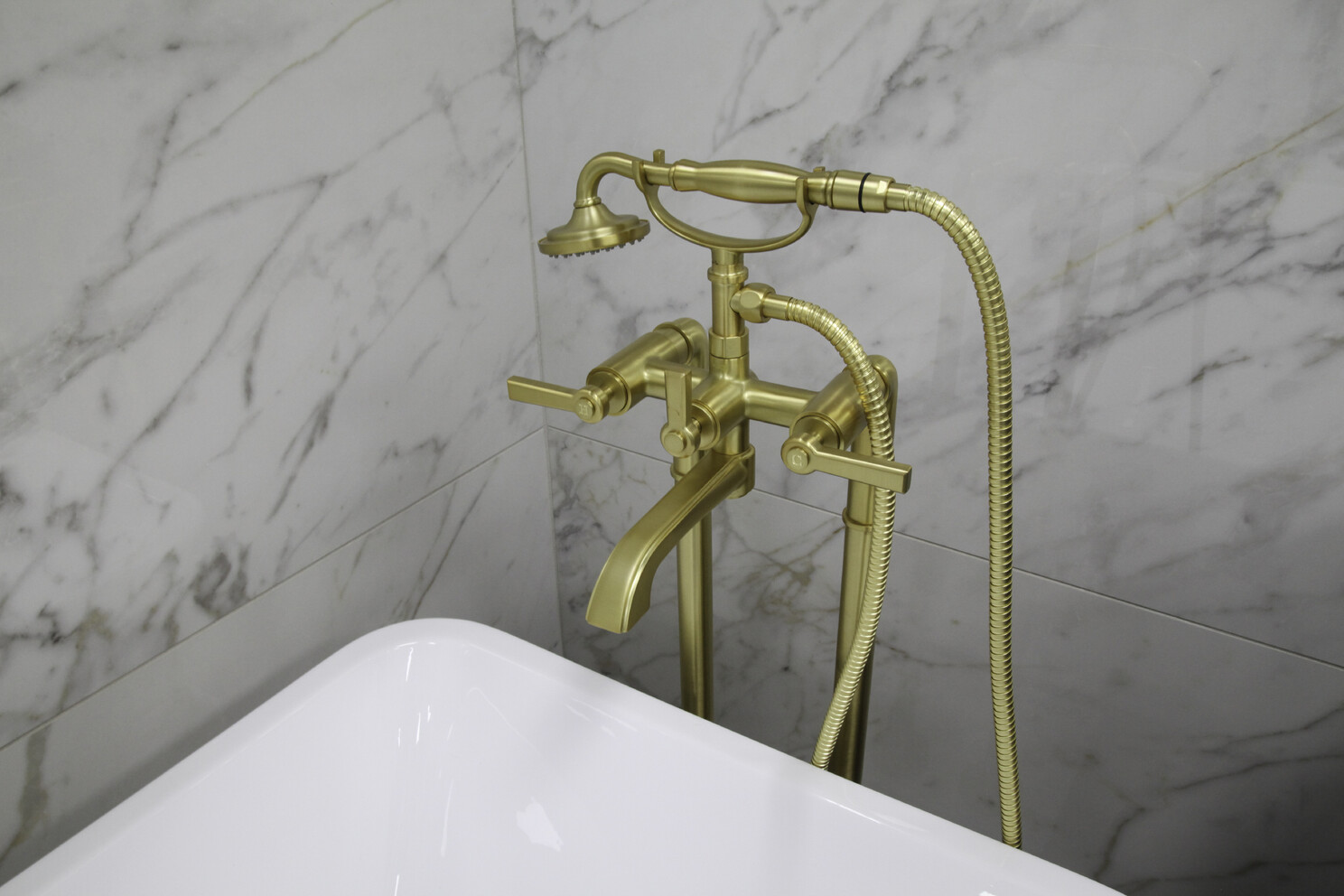 Create a vintage-looking space with Vogt's Zehn tub filler in brushed gold.
Country living brings to mind potluck dinners and family meals; a sense of coming together with a small-town sense of community. When it comes to creating a country dinner spread, our Zehn pot filler in brushed gold is a stunning, functional piece that will make filling up large pots for pasta and hearty, root vegetable stew easy and efficient. (Pro tip: look on Facebook Marketplace or your local home furniture thrift warehouse for a big, wooden dining table to complete the farm-to-table kitchen look!) The Zehn collection kitchen fixtures in antique bronze would make a stunning complimentary addition to your country kitchen. 
You can also have fun with statement fixtures in the bathroom! Add an elegant tub filler to a clawfoot bath for a touch of vintage glamour (bonus points if your bathroom is decked out with plenty of greenery and warm toned pieces, like burnt orange towels or a maroon bath mat). Contrast an antique-esque bath with Vogt's Wörgl tub filler in matte black or brushed gold for a striking, classically modern contrast. To create a cohesively vintage look, Vogt's Zehn tub filler in brushed gold is a perfect option to pair with an ornate, antique bathtub.
Designing a cohesive, country-chic modern farmhouse is all about striking the right balance between rustic elements and contemporary features. With a neutral colour palette, rustic textures, vintage accents, and statement fixtures, your dream country chic home will come alive with character and charm.