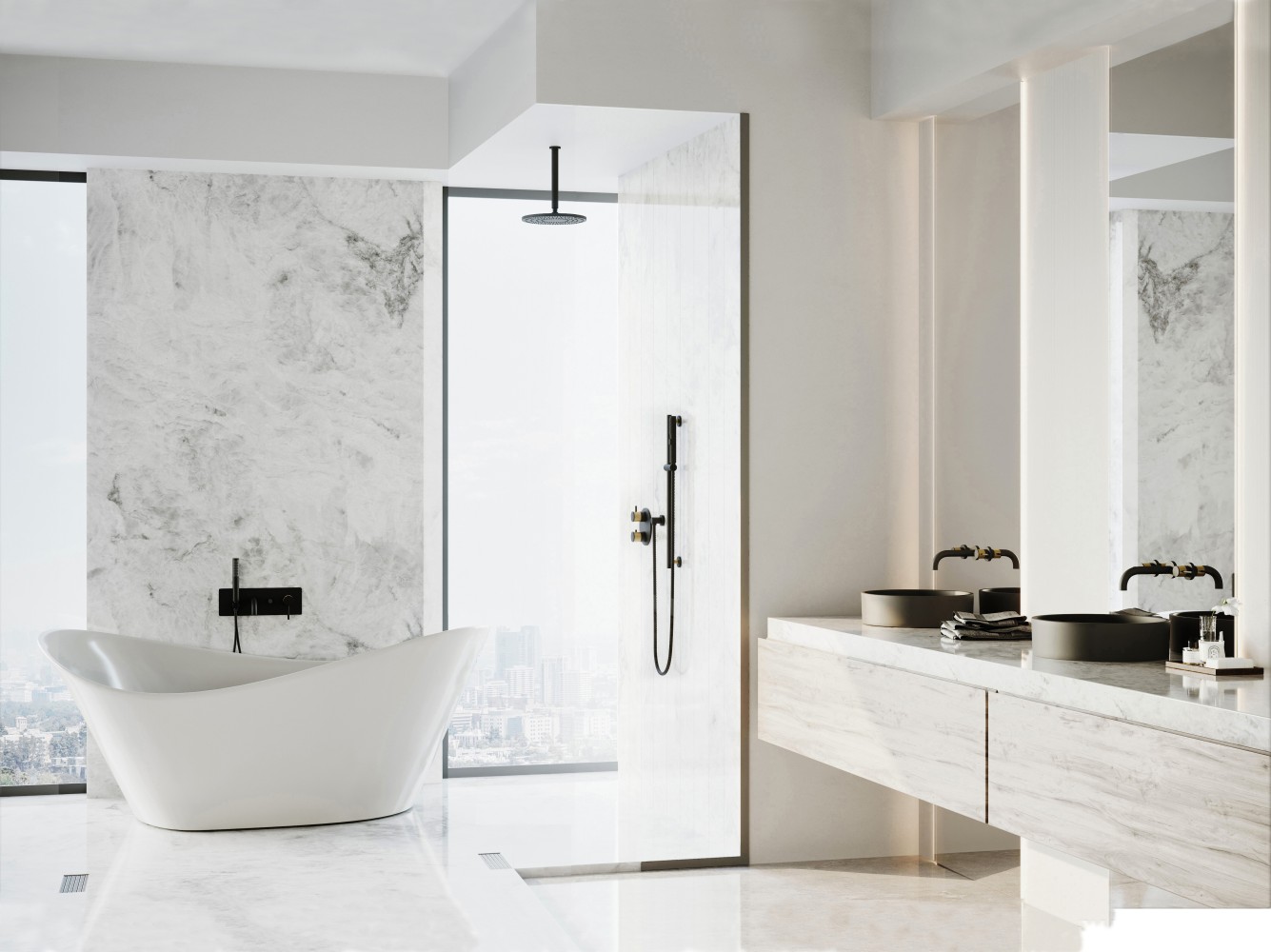 Our Drava shower head shines in this mode
"My Ugly Bathroom," an essay published by The Paris Review, is an ode to the out-of-date, dysfunctional and unaesthetic bathroom that you might find in your otherwise lovely home. But your bathroom doesn't have to be ugly -- it can be a highlight of your home, and upgrading your kooky, chaotic bathroom doesn't have to break the bank. Sprucing up your bathroom can be simple if you take your time and critically think about your needs, wants and desires for the space.While the renovated outcome is the end goal, the process can be creative, playful and enjoyable! Let's dive in and leave your ugly bathroom behind, shall we?  
Consider your bathroom design needs
In any classic film, when there's an ugly duckling makeover sequence, there's a method to the madness. Rather than going in and cutting the leading character's hair in the spur of the moment, hairstylists will often go over reference photos and discuss their vision for the final outcome. Like Audrey Hepburn's transformation in My Fair Lady, a true beauty makeover takes time and careful planning. The same is true for your bathroom renovation - rushing the process only leads to mistakes you can avoid and last-minute adjustments (such as regrettable bangs or an unfortunate perm). Instead, take the time to consider your final goal and the steps required to get there. Get into the character of your space by contemplating your personal style. This might be different from the trends you see online, and that's ok! Being honest with yourself about what you like and what you're looking for (what will "spark joy," as Marie Kondo said), is the key to creating a bathroom that feels right to you. 
We'll be going over the key areas of design to consider before tackling your bathroom renovation – so take notes.
How to choose the right colour palette & finishes
Choosing a colour scheme that A) works for your space and B) that you love is where your creativity can really shine.
To select a colour palette that complements your space, it's important to take in the current state of your bathroom and think about what makes sense. For example let's say that your bathroom is outfitted in a lovely vintage style that you would like to keepYou can pay homage to the elements that you love, like a freestanding ceramic sink and beautiful art deco taps, while upgrading the aspects of it that you don't, like dingy floorboards. If the tiling around your tub is gaudy and unattractive, you can play around with the way that you want to upgrade it by considering the colours and textures that suit the rest of your space. From tiling to wallpaper and paint colours, have fun experimenting with samples to get an idea of the colour and texture that will bring your space to life. 
Pro tip: use a colour wheel to capture the mood that you'd like your bathroom to evoke. If you want your bathroom to feel peaceful, calm and relaxing, go for blues, light greens and greys for seaside serenity. If you love to make coffee, blast music and take a morning shower, consider going for bright orange or yellow to energize you as you get your day started! White, off white or a light cream colour is also a classic option that works for any mood – it's literally a blank canvas for the fixtures, finishes and accessories that you'd like to add (but more on those later). 
Storage solutions to maximize your space
Whether your bathroom is large and lofty or cute and cozy, you can never go wrong by maximizing your storage solutions. Making your bathroom easy to navigate will save you time when you're late to get out the door and you can't find seem to find your hairbr – oh there it is! That hairbrush you haven't been able to find, tucked away neatly in your sleek vertical cabinet. 
Here are a few simple storage solutions to get you started: 
Floating shelves. These are particularly helpful if your bathroom ceiling is lower and the space feels a bit cramped. Floating shelves take up a minimal amount of space (bonus points if they're clear) and are an easy way to make your everyday products more accessible. 
Use baskets and bins. Adding baskets and bins to your bathroom, whether they're stowed away under the sink or on display, will improve your bathroom's organization and provide you with an opportunity to show off your colour palette. 
Utilize vertical space. Vertical shelving units free up floor space while providing you with plenty of storage. 
The power of lighting in bathroom design
Lighting is one of the true keys to a cohesive bathroom design. You can use lighting to your advantage to create the tone that you'd like for your bathroom, depending on your current layout and the mood that you want to curate. An example of this is using layered lighting – i.e. different light sources at varying heights – to make your space feel warm and inviting. You could also opt for bright, white lighting to make your space look and feel more open. 
Selecting the perfect fixtures
Once you've established a baseline for your bathroom's design, from wall colour to light sources, it's time to focus on adding fixtures that will create a cohesive and stylish bathroom. To simplify the process, we'll walk through each fixture that you should consider upgrading.
Faucets
When it comes to choosing the right faucet for your bathroom sink, there are a few things to keep in mind. Do you want a high-tec, modern faucet, and will it go with your sink? Or would you prefer a classic, simple, vintage model that will compliment your bathroom's aesthetic? Checking in with your overall design vision is a helpful way to choosefixtures that are in line with your bathroom's theme. Vogt's Drava collection bathroom faucets are complementary of a variety of styles, making them easy and effective options for any bathroom space. They come in multiple finishes and combinations, including matte black, brushed gold and chrome . Vogt's Antau faucet, with its edgy, sleek design, is the perfect choice for a modern space, and if you're looking for a classic, our Zehn collection bathroom faucets are an ideal option.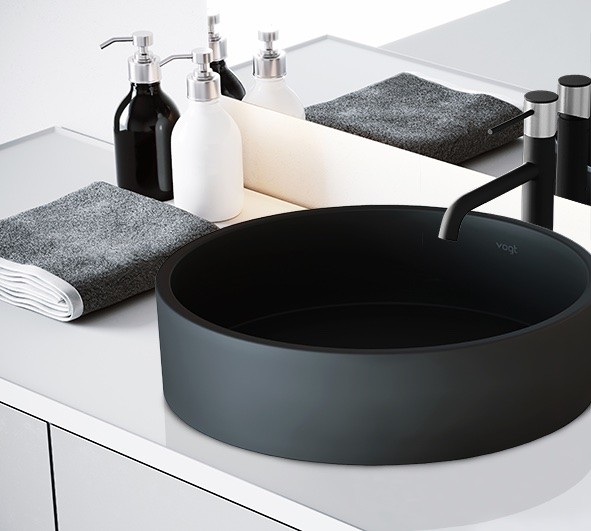 Match your sink to your faucet, like our Drava collection sink in matte black and our Drava collection faucet in matte black and chrome pictured above. 
Match your sink to your faucet, like our Drava collection sink in matte black and our Drava collection faucet in matte black and chrome pictured above.
The Showerhead
Nothing makes or breaks your shower experience like the showerhead. Selecting your dream shower system can be a luxurious process. From how it looks to its water pressure and temperature regulation, you deserve a high-quality model that will make showertime more spa-like. Vogt's Niveau shower head comes with a thermostatic valve for even water temperature and pressure, and its matte black finish will ground your space and make shower time feel extra sultry and luxurious.
The Bathroom Sink
There are a few different categories of sinks to consider before making your final pick. Firstly, there's the difference between a Top Mount and an Undermount sink. As their names imply, a Top Mount sink rests above the counter, whereas an Undermount sink is mounted below.
A beautifully crafted Top Mount sink is like a piece of art on top of your counter, like Vogt's vitreous china vessel sinks that glisten and add a beautiful shine to your bathroom.
For more information on how to choose the right sink for your space, check out our blog. 
Add accessories and decor
The right accessories can make your bathroom more liveable and add a personal touch. 
If you love to take a bath…
Consider adding a bath rack! A bath rack is an affordable way to make your bath more comfortable. After a long day, there's nothing more relaxing than sinking into the tub with a glass of wine and a good book!
To make bathtime a truly peaceful experience, you can install a towel rack directly beside the tub to hang a hand towel so you can keep your hands dry before turning the pages of your book.
It's easy being green
Plants thrive in damp, warm environments, so adding some greenery to your bathroom is a perfect way to spruce up your space. Ferns, bamboo and begonias all thrive in bathrooms! 
For the art-lover…
An easy, artistic hack that will instantly personalize your bathroom is to print your favourite paintings, frame them and put them up! You can work with the colours, textures and patterns that you've chosen for your space to ensure that the artwork you pick is on theme. For example, if you have a tranquil, blue-toned bathroom, a print of Monet's water lilies would be a lovely addition!
You can also add thrifted mirrors to make your space feel bigger. Thrifted mirrors often come in unique styles at more affordable prices than new, department store mirrors. This is particularly effective if your walls are white, as the mirrors will help to reflect light and open up your space. 
While there are a number of creative additions that you can add to spruce up your space, sometimes it's best to leave it to the experts. At Vogt, our collections are crafted with quality and longevity in mind, ensuring that our pieces are built to last. To explore our products and fixtures, find a showroom near you on our website. Browse the showroom locator today. Visit: https://www.vogtindustries.com/fr_CA/store/locator