Let there be light
Prioritizing natural light is key to opening up your bathroom space, making it feel bigger. Keeping your windows clean by regularly dusting will help to brighten up your space by letting all of the possible natural light in. 
If you're splurging on a bathroom renovation, consider adding a skylight to really open up your space. A skylight will breathe life into your space by flooding it with direct, bright light.
As for electrical light sources, large, bulky light fixtures will make your space feel smaller. Instead, opt for lights that are flush with the ceiling to fill your space with light while maximizing the space. You can also use uplighting to eliminate shadows, which will help your space to feel more cohesive, and therefore larger. Uplighting refers to angling your light sources upward to create the illusion of a broader space. 
Having different light sources can also help to eliminate shadows and make your space feel bigger. By using a variety of light sources at different heights and levels of brightness, you can really make the most of your space, no matter the size.  
Keep it consistent 
Paint colours 
When it comes to the aesthetic design of your small bathroom, sticking to a theme is key to transforming your small space into a bright, open spa-like oasis. 
For your colour palette, stick to the obvious: white, off-white, and cream. White reflects light, making a space look bigger, while dark colours absorb it, making a space feel smaller. Keeping your base colour scheme (the colours of your walls) white and light will make the most of your natural and electrical light sources. If bright colours are a priority for you, you should consider other shades to achieve a similar effect. Bright colours like baby blue, light gray and pale yellow can lighten up your space; earth tones like light green and cream can also help you to achieve this effect.
Lastly, make sure to paint your ceiling the same colour as your floors and walls so you can make the most of your bright colour palette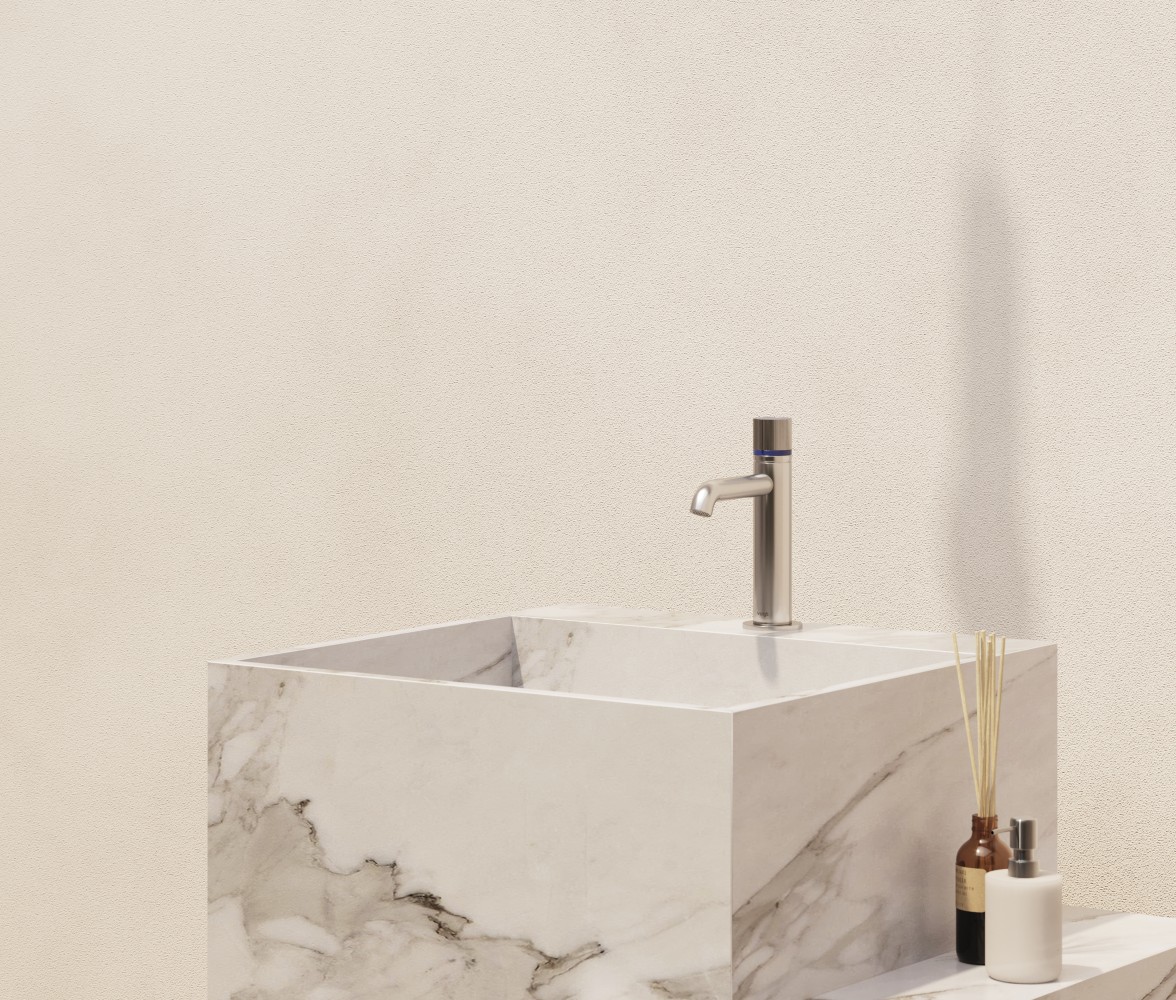 Mond Lavatory Faucet, Available Summer 2023
Cabinetry
If you still want to have fun with colour and let your personality shine, try incorporating accent colours in your cabinetry, vanity or backsplash. Shades of coral and turquoise pair well with white - they provide a pop of colour without detracting from white's ability to reflect light, as they're bright colours as well. If you prefer a chic, sleek aesthetic that isn't all-white, try pairing it with neutral colours like beige for a smooth look that is still cohesive and open.
For example, playing around with the colour and texture of your cabinets can have a major impact on your bathroom's appearance. To make it look bigger, use high-quality, smooth materials like plywood, and apply brightly-coloured, or white, matte paint. 
Matte paint works best in a bathroom because of the high water content in the air - humidity doesn't mix well with glossy oil paint. The smooth texture of the wood will help to streamline your cabinetry, and keeping a cohesive colour theme between your fixtures and base colours will help to keep your space open. 
Tiling
When it comes to tiling, patterned wallpaper or any other textured wall-element, it's best to stick with monochromatic shades and avoid busy patterns. While you might want to pick a colourful, patterned wallpaper to distract from your bathroom's dimensions, this will ultimately make it look visually cramped. Intersecting lines (lines that meet each other in tiling, decorative patterns etc) make a space look more segmented, which makes it look smaller. 
Create the illusion of more space with simple tiling designs that are not overpowering (i.e. heavier borders or detailing). This is important for floor tiling as well - the classic black and white checked pattern can make your space feel cramped. If you're going to use tiling, it's best to understand the height and shape of your bathroom. By incorporating different sized tiles and simplified designs, you can make your space appear larger and help it to maintain an organic flow.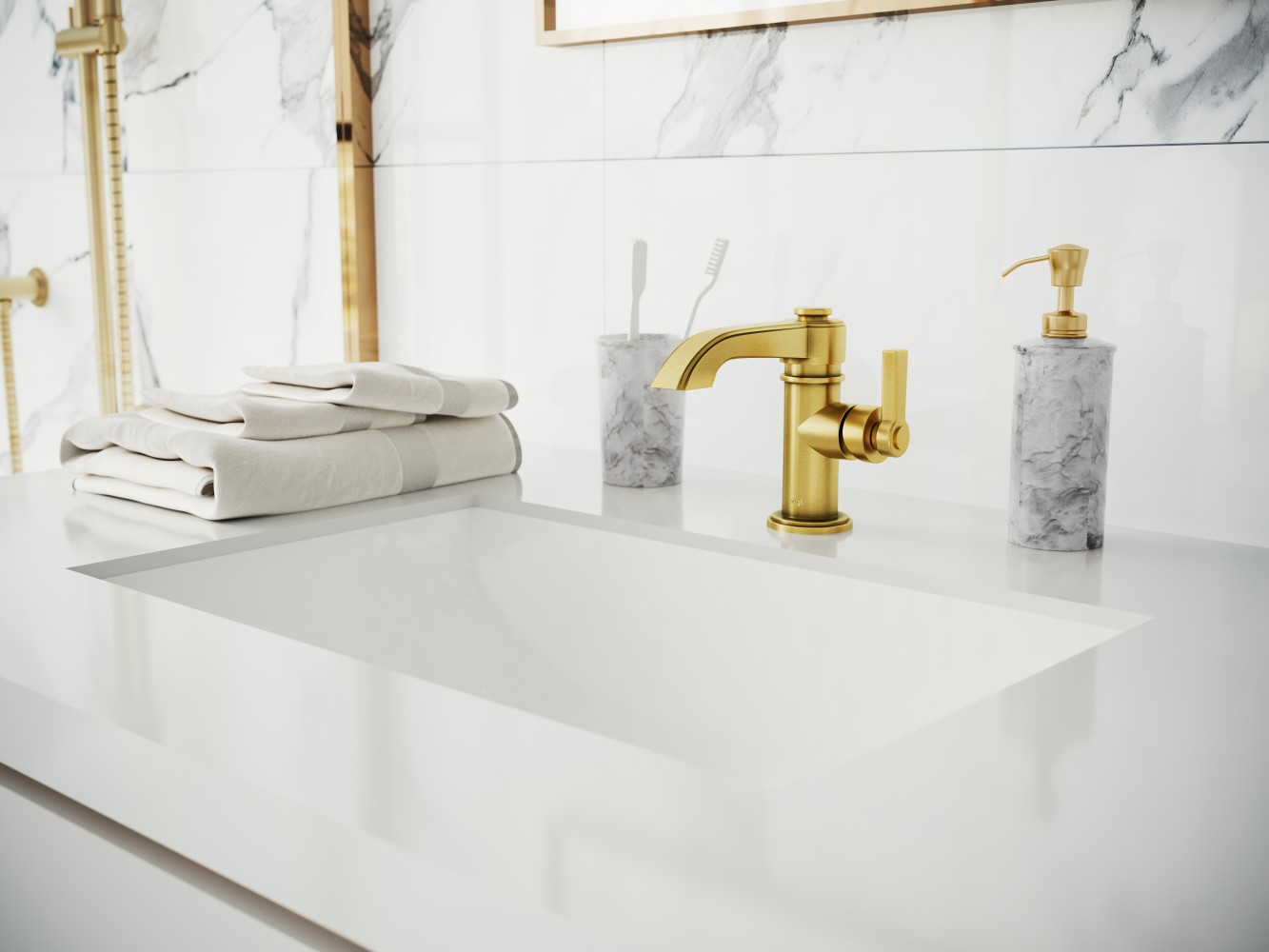 Zehn Lavatory Faucet
 Mirror, mirror on the wall
When you're working with a small bathroom, mirrors are your best friend. Mirrors, like white walls, reflect light and have an expansive effect on your space. If your bathroom already has a small mirror, like the one hanging over your sink, consider replacing it with a larger one for a relatively affordable way to instantly open up your space. 
Mirrors are quick and accessible options when looking to upgrade your bathroom. Consider installing a larger mirror, such as one that is the same size as your vanity. This is a creative way to maximize the amount of light that reflects in your space. You could also combine  a smaller mirror with different decor elements to add depth and the illusion of space.
Keep it minimal
While it can be tempting to show your personality in your bathroom with homey, decorative touches, keeping your decor to a minimum will go a long way when it comes to expanding the appearance of your small bathroom. By limiting the amount of decor in your space, your bathroom will look more fresh and open. 
This also applies to how you decorate your vanity. Keeping your vanity clear will make your space look cleaner and larger. Any clutter, even if it's decorative, makes your space look messy and busy, which makes it look smaller. 
Also, it's important to work with the space that you have, not the space that you want.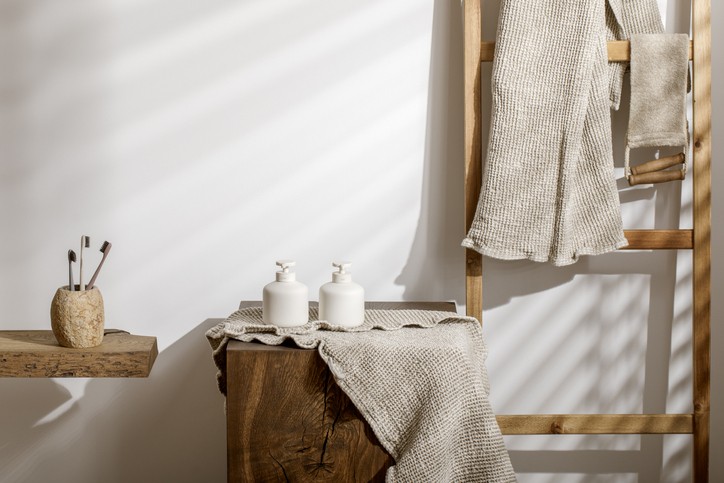 Utilizing wall space for fashion and function
Rather than focusing on horizontal storage, like a long shelving unit where you can display aesthetic decor and functional items, consider a long, vertical shelving unit that can squeeze in anywhere. Using vertical units, like sleek, narrow bookshelves, is an easy way to make the most of your available space (which is most likely in the length, not the width, of your bathroom) without unnecessarily adding fixtures that you don't have the physical space for.
Install a glass shower enclosure
Utilizing clear glass around your shower reflects light and opens up your space. Swapping your shower curtain for a clear glass door is an effective way to cut out unnecessary dark colours and lines, creating fluidity in your space.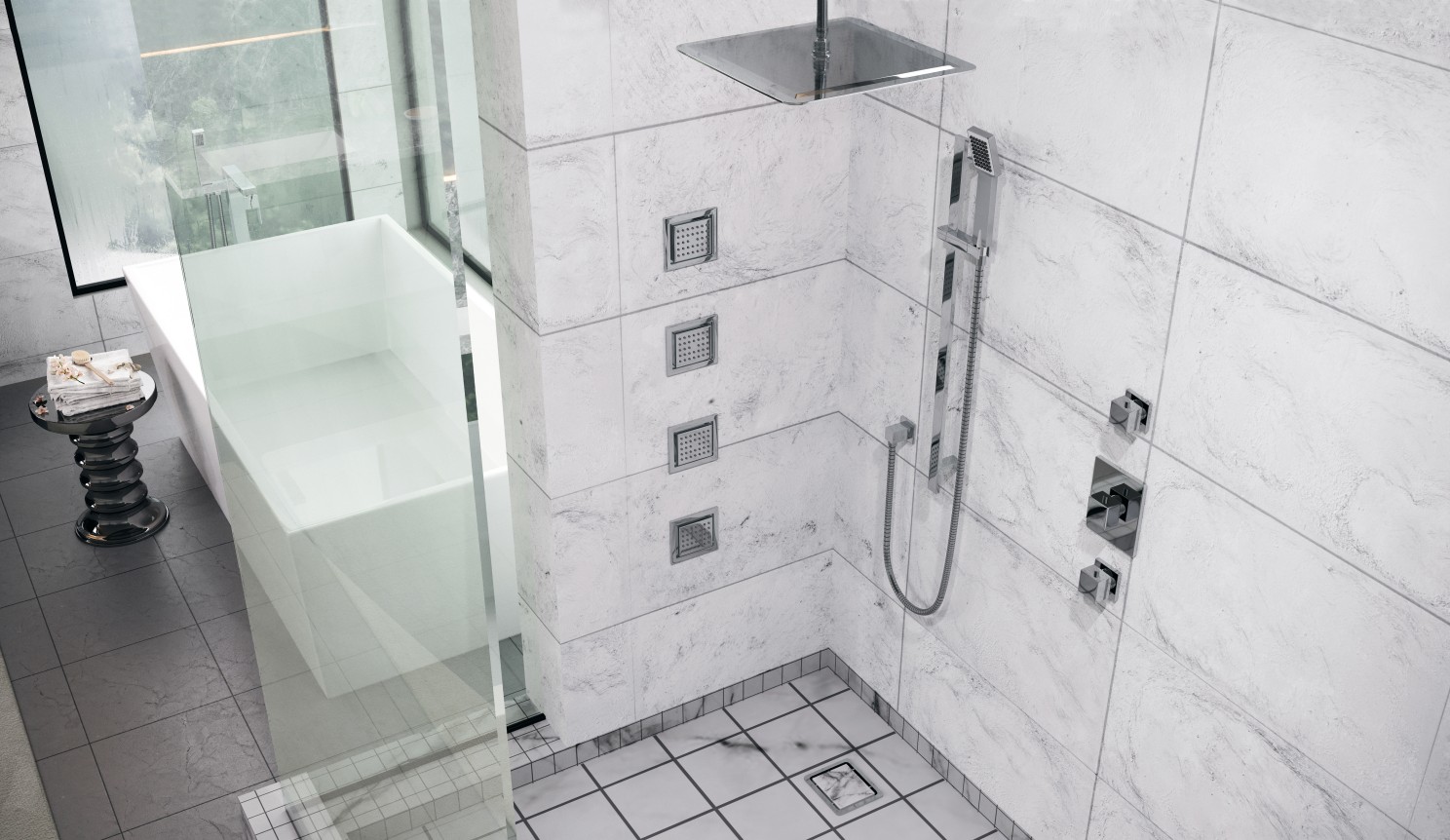 Kapfenberg Shower System
 There are multiple options for glass shower enclosures: frameless, semi-frameless, tub enclosures, partial tub enclosures and more. Selecting the right option for your space depends on the layout of your bathroom and how much room you have to work with. 
For example, if you have a tub/shower combo, and your space is limited, a full wraparound glass door might be the safest option, to ensure that you have the proper amount of opening space to enter and exit the shower safely. This is one of the most common bathroom renovation mistakes that people make when tackling a new renovation.
You can also choose the texture that will work best for you. A textured glass shower enclosure will provide more privacy than a clear one, similarly to a frosted glass window. So if you have a small, shared bathroom, a textured enclosure might give you peace of mind, while still letting plenty of light filter through your space.
It's important to consider whether or not you need a custom door: if elderly relatives or children will be using your bathroom, you may require special accommodations in your bathroom.
Picking the products
Vogt's luxe products are designed to make your space feel cohesive, elegant and functional - all of the hallmarks of an open, streamlined bathroom. 
To maximize your storage, the Zehn Wall Mounted Faucet is a chic option that will give you more countertop space around the sink, to either keep bare for a cleaner look or to selectively place key storage items. 
As for your bathroom sink itself, an undermount sink is a small-space friendly option that will give your bathroom a clean, streamlined look. This elegant installation is not only a modern twist: it also allows your sink to connect under the countertop so it does not obstruct your view with protruding edge.
Incorporating round edges adds a softer touch to your space which will add more dimension in your bathroom. Vogt's Wörgl Collection was crafted with organic shapes in mind, and its naturalistic curves are perfectly suited to the softness that a smaller space needs. 
Now that you have all of the information you need, making your small bathroom feel bigger will be an exciting creative project rather than a tricky challenge.
To gather more inspiration for your bathroom renovation, find a Vogt showroom near you using the store locator on our website.