While it often goes overlooked, the bathroom sink is a great way to express your personal style. However, before choosing your bathroom sink, remember that function is just as important as form. How big is your bathroom, and how often will you use this sink? Do you want a standalone sink, or do you require storage space?
Storage is at a premium in many home bathrooms, especially in metropolitan areas where there are more condos than houses. While you may like the elegant appearance of a pedestal sink or the minimalist aesthetic of a console, you can't exactly store towels or toilet paper under them without it being an eyesore. Is this going to be a sink that the whole family will be using? If so, you'll want to make sure you go with a durable sink that is easy to clean. 
Let's look at some other factors to consider while selecting the ideal sink.
Sink dimensions
Despite what they say, size DOES matter. While there are no size requirements for your sink, it should be appropriate for the proportions of your bathroom. As lovely as a luxuriously large basin sounds, it might not be the right fit (yes, pun intended) for tiny bathrooms. Consider a corner sink if your bathroom is on the smaller side — which is common in Toronto condos. However, if you share a bathroom and have the counter space, two sinks might be a solution to morning wait times. 
Sink Materials
When it comes to sinks, there are numerous materials to pick from. It all boils down to selecting something that appeals to your preferences. Bathroom sinks can range from classic to modern and use materials such as porcelain, stainless steel, cast iron, and stone. Vogranite (exclusive to Vogt) is a stone composite engineered for durability and sustainability. Check out some of Vogt's luxury sinks that have received praise from some of the industry's top designers.
Classic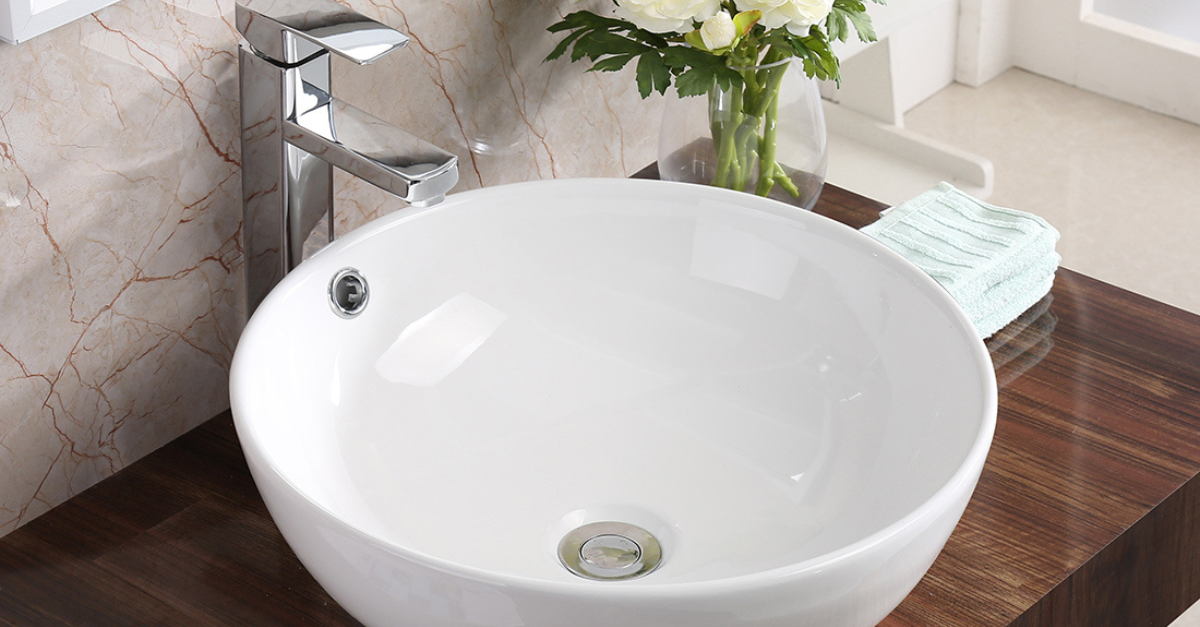 Vitreous China Vanity Sinks come in a range of shapes and styles and feature a non-porous enamel glaze making them durable and easy to clean. Simple yet striking, classic designs will help give your bathroom a timeless look. Lighter colours complement minimalist-themed bathrooms and create a clean, polished look. With six under-mount and five vessel designs, Vogt offers artisan sinks to suit your style and needs.
Modern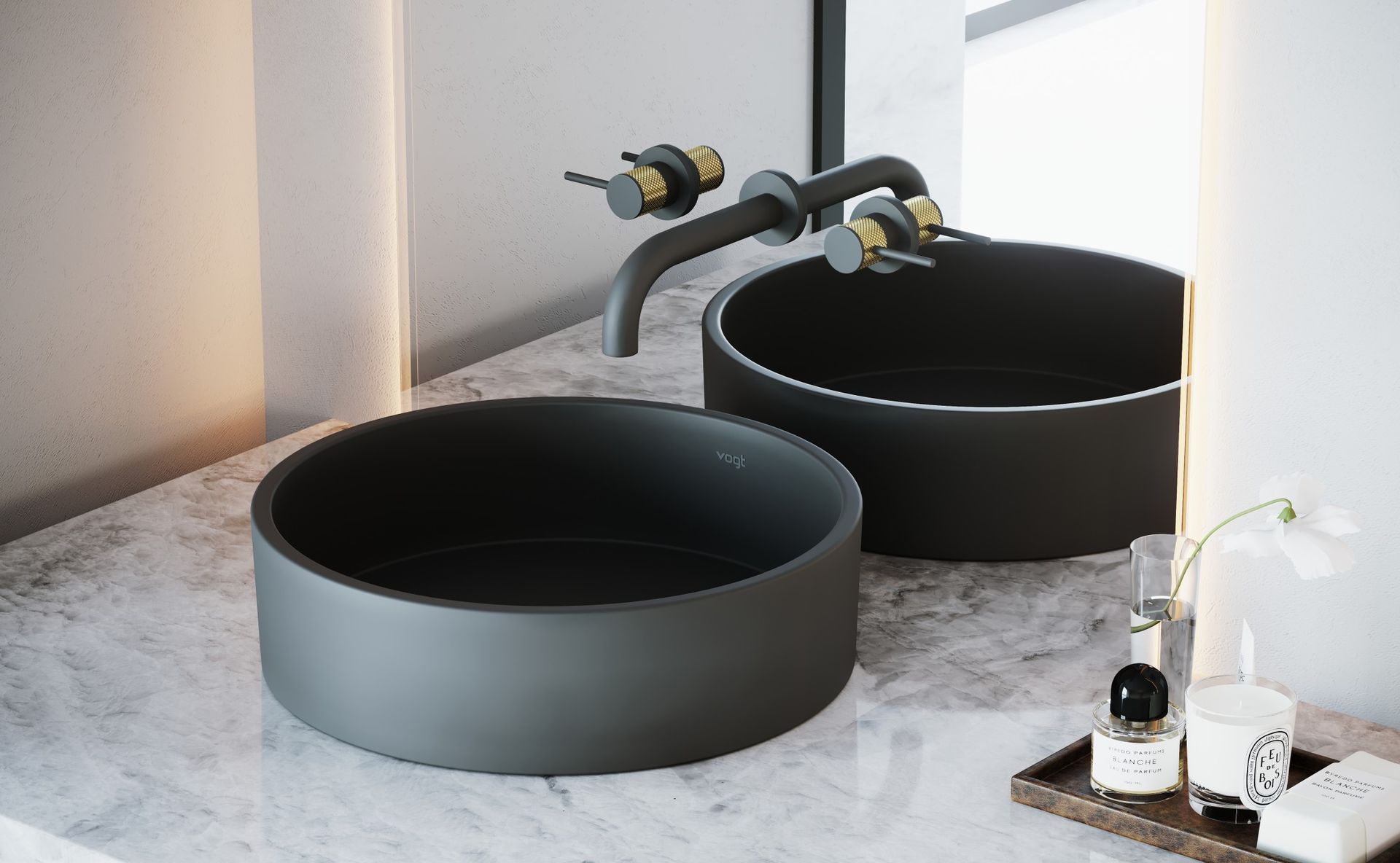 Vogranite Quartz Sinks are made of our exclusive granite composite material, making them durable for years to come. Their non-porous surfaces make them eco-friendly, as you won't require harsh chemicals to clean and maintain them. The Vogranite sinks come in Onyx Black, Metropolitan Grey, and Frost White. 
The Onyx Black makes a powerful visual statement. It can add depth and a touch of luxury, especially if paired with brushed gold fixtures and faucets. If you're looking for a cool neutral finish, Metropolitan Grey is subtle but can complement an industrial or minimalist look in your bathroom. Finally, Frost white is clean and crisp — the brightness of this colour combined with contemporary design offers a stunning, contrasting look — especially in darker spaces.
Other types of sink designs
Undermount sinks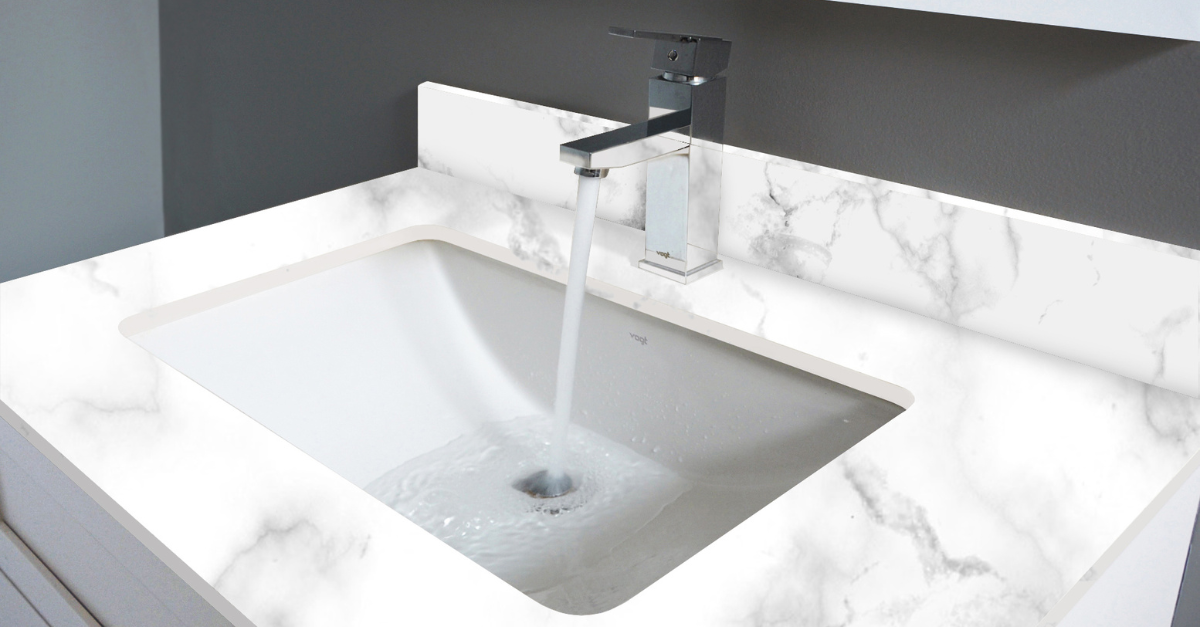 Undermount sits beneath the counter, with the sink's edge below the level of the countertop. Undermount sinks mount below the counter and are held in place using a strong silicone adhesive and brackets. Undermounts use solid materials such as Vogranite that can be polished and sealed.
Vessel sinks
Typically, vessel sinks are installed from above the counter, with the bottom of the sink sitting directly on top of the vanity. A vessel sink may be partially sunken into the counter (recessed installation), with half of its still visible. Vogt uses vessel designs in the Vitreous China Vanity Sink models and Vogranite sinks.
Drop-in sinks
Drop-in sinks have a rim or lip on the countertop. This sink is popular because it is simple to install, fitting right into the pre-cut hole on most vanities. Undermount sinks are installed beneath the countertop and must be attached from below. Because these sinks require a counter hole in the shape of the sink, this might be a challenging DIY project. One benefit of this type of sink is you can easily wipe counter spills directly into the sink, making cleaning up a breeze.
Pedestal sinks

Pedestal sinks are freestanding and have two parts — the basin on top and the column underneath. A pedestal sink's thin, minimalist design is ideal for a smaller bathroom or powder room, while it doesn't provide much storage space.
Wall-mount sinks
Wall-mount sinks, often known as floating sinks, are mounted to the wall. They do not require a counter or vanity, making them ideal for tiny bathrooms and powder rooms. Some wall mount sinks might have visible plumbing as a design element but can incorporate things such as towel racks or small bathroom caddies.
Whether you're just starting out your bathroom design journey or are in the process of selecting fixtures to buy, Vogt offers inspiration and unparalleled quality through our range of products. For more information, contact us.