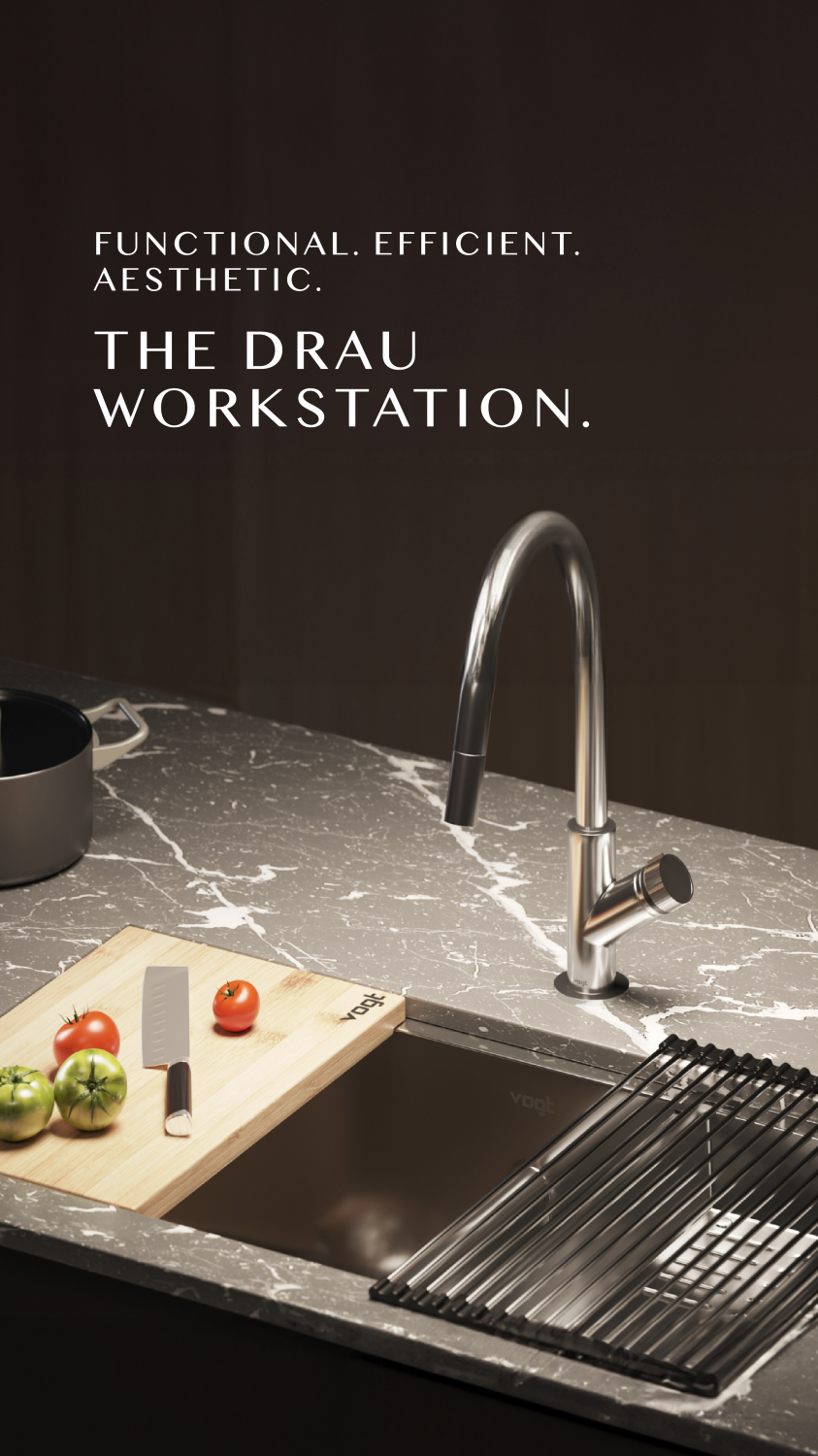 Looking to increase your efficiency in the kitchen so you can spend more time relaxing with friends and family over a bottle of wine and a beautiful meal? In this blog, we're sharing the secret to success in the kitchen by introducing you to the workstation of your dreams that will make every step – from prep work to clean up–  a breeze. Say goodbye to kitchen clutter and hello to a multifunctional unit that will make home cooking feel less like an episode of Hell's Kitchen and more like Barefoot Contessa. Introducing: the Drau Workstation.
Elegance meets Efficiency 
The Drau Workstation is the epitome of modern kitchen design. It serves as an all-in-one culinary accessory, designed to meet your daily cooking needs that might not be top of mind when you're shopping for kitchen fixtures. The Drau Workstation's thoughtful design makes it an essential addition to your space – it's an intuitive kitchen component that you won't be able to live without. From food preparation to washing and drying, this multifunctional unit streamlines your workflow, saving you precious time and effort.
Easy, Breezy Cooking
No more running around from the cutting board to the colander to the pit of dishes piling up in the sink - with the Drau workstation, food prep and clean up has never been easier. The station comes with a colander, a bamboo cutting board, grids and strainers to cover all of your kitchen essentials in one localised, easy to operate space. With radius corners for swift, streamlined cleaning and stainless steel for antibacterial durability, the Drau workstation is made to maximize.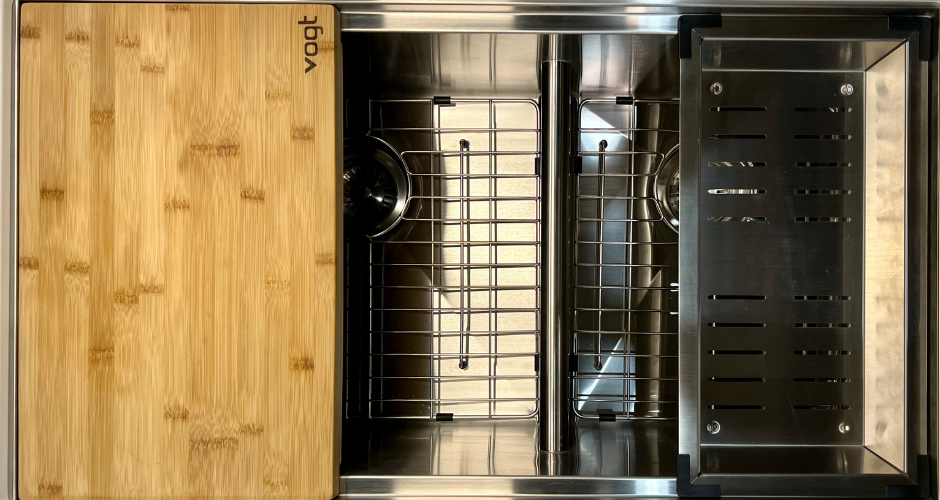 The new Drau Workstation fuses modern design with high-quality functionality
Preparing ingredients with thoughtful care makes a meal look and feel special – and it makes it taste better - this is, believe it or not, a scientific fact! With the Drau Workstation, you can calmly slow down your chopping, slicing, and dicing. The spacious and durable countertop offers ample space for all of your prep work. Crafted from high-quality wood, it provides a hygienic surface that is easy to clean and maintain, so you can chop your veggies and slice your fruits with precision and ease. Whether you simply watch the Food Network or consider yourself a Master Chef, the Drau Workstation is guaranteed to elevate your kitchen fame. 
Clean Up in the Blink of an Eye
From a multi-course family meal to a simple dinner for one, cleaning up should never be a chore. With the Drau Workstation's integration into your kitchen sink, washing dishes becomes a breeze. The workstation's seamless design ensures that water and spills are efficiently drained away, leaving your workspace spotless and ready for breakfast. 
With its all-in-one design, the Drau Workstation will become the heart of your kitchen.
The Drau Workstation by Vogt will be available for purchase in the late fall of 2023 at retailers across Canada. Follow us on social media to stay up to date with the latest releases and product launches.