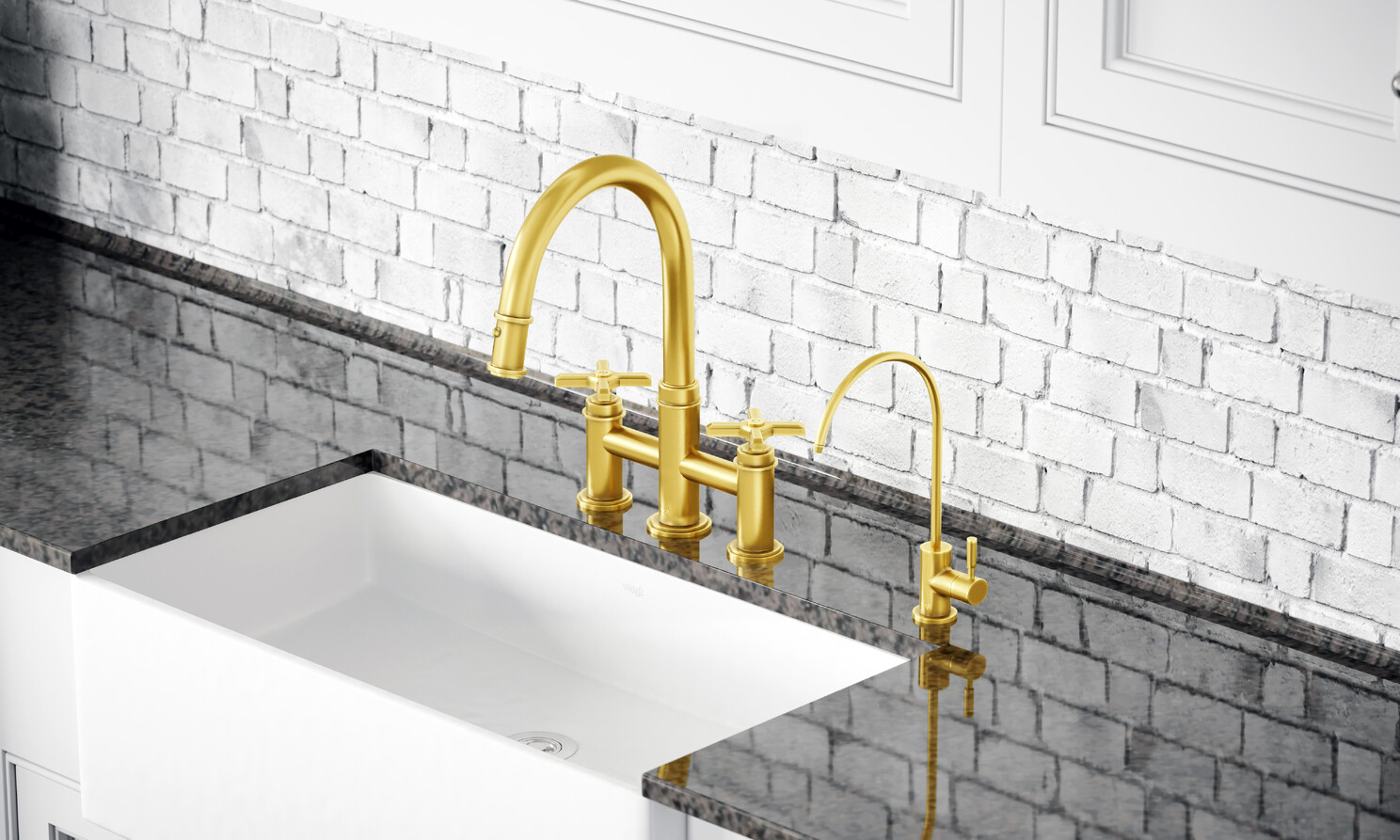 The Zehn kitchen faucet in brushed gold shines bright in this kitchen space.
Congratulations on your new journey as a homeowner! As you embark on creating your dream space, it's time to unlock the secrets of the new homeowner's wishlist—the hidden gems that will transform your house into a haven of comfort and style. In this blog, we'll explore products that are designed to elevate your space with luxurious style. Let's dive in and discover the fixtures, accessories, and key pieces that you may not know you need! 
Home security systems
This might not seem like the most fun gift for the new homeowner – but hear us out. A security system provides peace of mind and is an easy, efficient way to feel comfortable and at-home in a new space. Whether you're looking for a little peace of mind or you want to see what the raccoons in your backyard get up to at night, it's a smart first-step – and in terms of safety, it's the gift that keeps on giving. 
Energy efficient windows
 Another necessary home-purchase is one that saves you money down the road – so why not treat yourself, as a new homeowner, to some energy efficient windows? Energy efficient windows will help you to save on AC costs in the summer months and on heating costs in the winter – plus, they help maximize the value of your home, making your new space a great investment.
A cinematic movie experience
Watching movies at home is a universally beloved family experience – so why not bring the cozy comfort of the movie theatre to your brand new space? Upgrade to a surround sound speaker system (and consider installing a projector) for the ultimate movie-night in. Bonus points for creating a blanket fort in your fresh-slate space, ordering your favourite takeout and tucking into a comfort movie. Whether this is something that a friend or relative picks out for you or a gift that you give yourself and your family, it's something that everyone will enjoy.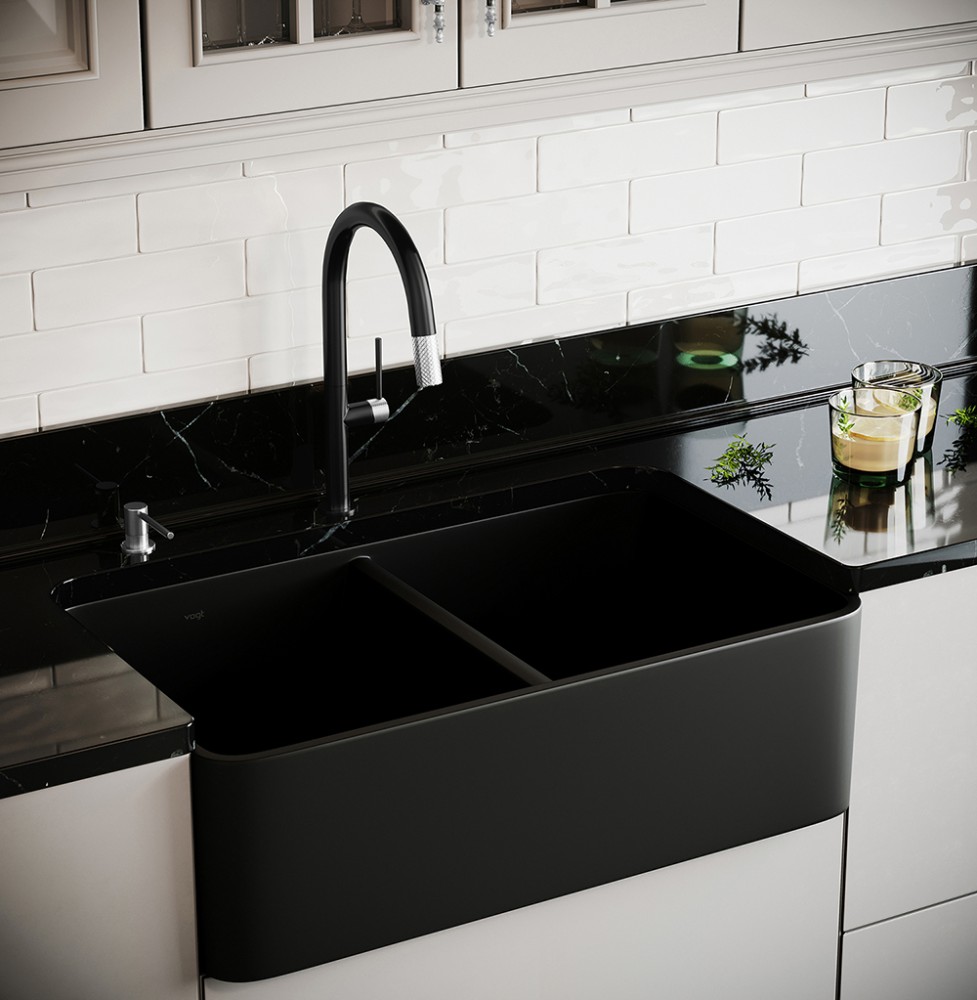 Bring your kitchen to life with luxury home fixtures like the Drava kitchen faucet.
High-quality kitchenware 
Kitchen fixtures and appliances are no-brainer gifts for the new homeowner. From artisanal touches like handmade mugs and unique napkin rings to a beautiful table cloth or china set, there are creative gifts galore when it comes to the kitchen. Vogt makes a chic cutting board that would make a perfect present!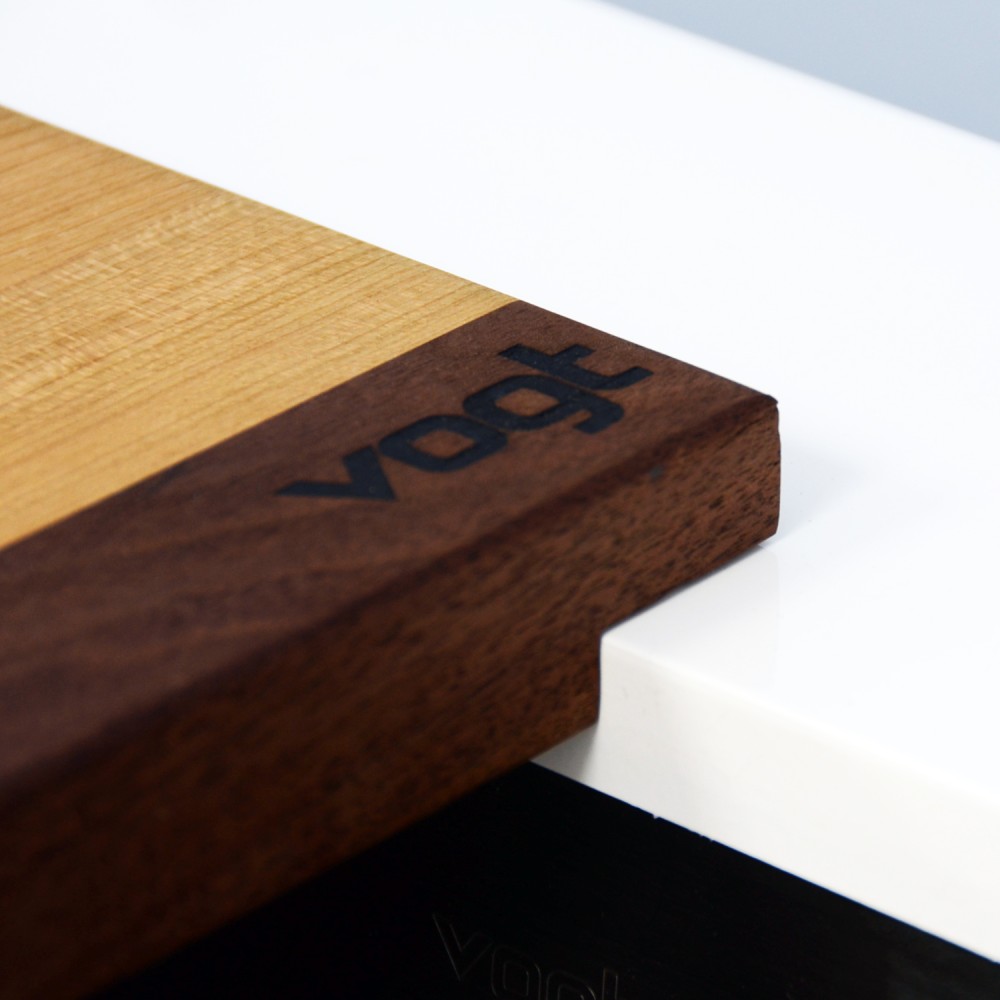 Vogt's cutting board is the perfect present for the new homeowner.
For more substantial gifts that will last a lifetime and become the fixtures of memories made, consider investing in high-quality fixtures from trusted industry-leaders like Vogt. 
Think about your fondest childhood memories at home: cooking in the kitchen, gathering together over a home-cooked meal, celebrating a holiday, a birthday, a special occasion. As a new homeowner, the pieces that you reach for daily (your sink, your cookware, your kitchen appliances) should be of the highest quality, to support the wear and tear that comes from making memories that will last forever. 
At Vogt, we believe in the value of high-quality fixtures that support the motions of your daily life. Our pot-filler the gamechanger that every new homeowner needs – it's chic and designed to look like a modern art piece, or a beautiful accessory, rather than a cumbersome object. Vogt's array of sinks are all elegant options. From sleek, matte black Vogranite sinks to our gleaming stainless steel options, the sink that will become the cornerstone of your kitchen is in one of our luxury collections. Vogt sinks are easy to clean (and for ultimate easy-cleaning, we recommend opting for a sink with rounded corners) and they can go with any home decor style. 
Another top-tier gift that you can give to the new homeowner is a beautiful kitchen faucet. Vogt's kitchen faucets are designed to intuit your needs – with 2 different stream options and extendable faucet spouts, your finicky kitchen needs can be met in aesthetic style. Go for gold with our brushed gold Zehn faucet or opt for sleek silver with our stainless steel Drava faucet. 
Spa-like bathroom accessories 
At the end of the day, you need some self care. Create the luxury spa that you crave right at home with Vogt's luxury bathroom fixtures and accessories. 
Elegant touches like a beautiful, high-quality tub filler, can make all the difference when it comes to customizing your new bathroom space. A luxury piece is the perfect gift to make your home feel like a dream oasis that you can't wait to get back to after a long day. 
For a truly stunning gift, look no further than our luxury shower sets. They add an elegant touch of design to your bathroom that can turn it into a modern, beautifully vintage or simple & chic home spa. 
As a new homeowner, you deserve to unlock the hidden gems that will make your house truly shine. Vogt Industries, with its range of innovative and high-quality products, is here to bring your vision to life. Your new homeowner's must-haves are easily available with Vogt!