When it comes to designing your bathroom, the golden rules of design range from the miniscule to the conceptual. From the nitty gritty, like the optimal paint shades for your space, to the aesthetic and thematic, tailoring your bathroom to your own design vision - while abiding by some basic rules - is key. We're guiding you through the top design tips and mistakes to look out for when you're looking to spruce up your bathroom spa sanctuary.


Let's Talk Colours


From crisp paper white to rich, warm creams, the array of options for white walls, accents and touches is vast. But when it comes to selecting the right shade for your space, designers with their finger on the pulse of 2023's hottest trends are noting that the all-white look is out. For an equally chic effect without the hospital-corners brightness of a gleamingly pale, blinding white space - incorporate taupe, light pinks and warm woods into your space. 


Our upcoming Mond line is perfect for this soft touch of warmth. Replete with pops of (perfectly on trend) customizable colour, you can add a dreamy flush of picture-perfect pink to your bathroom without going over the top. Available Summer 2023.


Royal gold will also be an in-demand accent next year. Our Drava line offers a range of bathroom accessories adorned with stylish gold accents that will make any bathroom space feel more luxe.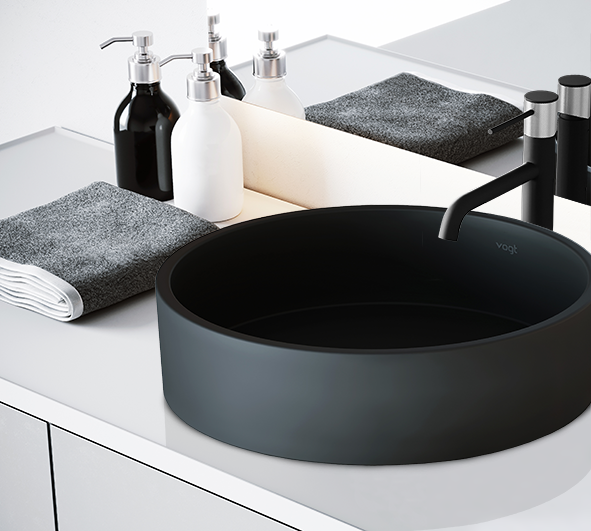 Drava Faucet with Quartz Sink
Set the Mood (with Lighting) 


The lighting to look for in 2023 isn't fluorescent or overly-bright. It's warm, soft and layered - and it's guaranteed to make your space look and feel more cozy. Working with less harsh lighting tones gives you more room to play when it comes to textural choices as well. Golden light warms up rich cream tiling, magically caresses bath water and reflects like starlight in a dimly-lit mirror. When it comes to layering your lighting, you have the opportunity to set your bathroom's mood! Whether you want to create the clean, green spa of your dreams or capture the essence of a dark, woodsy bar, the world is your oyster.
 
It's All Natural


Organic inspiration has been making a comeback since we all grew bored and restless of sterile, antiseptically modern spaces during the pandemic, and it's still on the rise. Incorporating organic-looking structures and shapes into your bathroom brings the outdoors in, calming your mind and setting the tone for your long hot baths and self care nights. In a meta twist, our Zehn collection is ideal for adding a sleek, naturalistic touch of elegance to your space - so you can bliss out. 


For more bathroom design inspiration, and to source your dream touches today, visit our website!