Making your space your own is the difference between a house and a home. Customizing your space can be overwhelming - there are infinite colours, textures, patterns and styles to choose from. We're covering all of the bases, from how you can incorporate pops of colour to spice up your space to how a high-end sink can elevate your kitchen's aesthetic. Take notes!
6 easy ways to elevate your kitchen decor 
The first step to customizing your space is narrowing down your creative options into categories. You can check that off your to-do list, because we're breaking down six easy ways that you can curate your kitchen's aesthetic to reflect your personal style.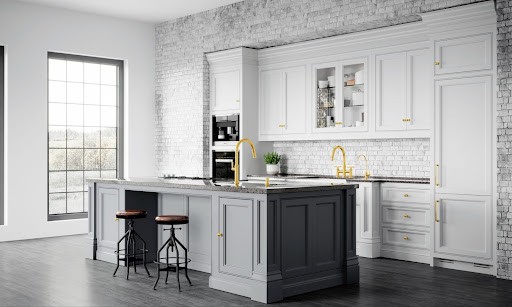 Zehn Kitchen Faucets in Brushed Gold, paired with a contrasting kitchen
Personalized cabinets 
Personalizing your cabinetry isn't just about decor - you can customize your cabinets to meet your unique needs! Make your cabinets more functional by adding in rotating shelves, built-in wine racks, spice racks, and garbage and recycling pull-outs. Making your pantry items more accessible can also make your cabinets more aesthetic - consider taking cupboard doors off for open-concept shelving that will let your beautiful dishware, pots and pans shine!
When it comes to personalizing your cabinetry, why not customize the area underneath your cabinets for a seamless aesthetic? With Vogt's Dornbirn pot filler, you can easily fill up pots, water bowls for your pets and more without messily splashing water around in the kitchen sink. Plus, it's a chic accessory that you can coordinate with your cabinet handles and paint colour! Whether that looks like contrasting the colour of your cabinets with your handle colour or matching them, there's a ton of room to play around with the style of cabinetry that works best for you. 
Add a rug
Adding a rug to your kitchen is an easy way to get creative with colour, texture and style while making your space more functional. Some considerations when choosing a rug for your space include its size, pattern and texture. In the kitchen, opt for washable and stain-resistant rugs, so that when food and debris falls underfoot you aren't ruining a delicate, handmade masterpiece! You can find affordable, no-slip foam mats on Amazon that come in a chic array of styles and colours, making your flooring look cuter and feel more supportive and comfortable. This is especially important for the home cook's in the family who stand at the kitchen counter doing the dishes and prepping food! With a plush, thick foam mat, you can give yourself (and your tired heels) a break. 
Play with backsplash
Getting creative with your kitchen's backsplash is a great way to personalize your space. You can take a solid coloured backsplash that perfectly compliments your cabinetry, and put a creative twist on it by arranging it in a unique pattern. For example, glossy tiles in a herringbone pattern would shake up an otherwise plain, modern kitchen in a refreshing (but not overpowering) way. You can also use high-quality materials, like plaster paint, to add unpretentious je-ne-c'est-qua to an elegantly aesthetic kitchen. Playing with backsplash provides you with a fun opportunity to create contrast in your space. 
Paint the ceiling 
Painting your kitchen ceiling is a relatively easy project that you can undertake, and it will have a dramatic impact on the overall look and feel of your kitchen. When considering what colour to paint your ceiling, it's important to assess the height and width of your kitchen. If your kitchen is on the smaller side, painting your ceiling a light, sky-blue will open the space up, whereas if you have a lofty, high ceiling you can work with darker colours that will add dimension to an open kitchen. 
Mix in pops of colour 
Speaking of colour, mixing in pops of colour around your kitchen is a playful approach to livening up your kitchen decor. Whether you add brightly coloured knick knacks, curtains, centrepieces or furniture, the possibilities are endless. 
Incorporate stylish fixtures and accessories 
Redecorating your kitchen can (and should) include assessing your current fixtures and accessories and upgrading them to higher-quality versions. Take your kitchen sink for example: why have a scratched up, old, metallic sink when you can have a chic, sleek, matte black model that also makes doing the dishes so much easier? Vogt's Vogranite undermount kitchen sink lies flush with your countertop, making it aesthetically pleasing on the eye - not to mention its luxurious matte black finish that beautifully contrasts a variety of countertops, from marble to glossy wood. While you're at it, you should probably pair your stunning new sink with an equally gorgeous tap, like Vogt's Drava faucet in matte black and gold.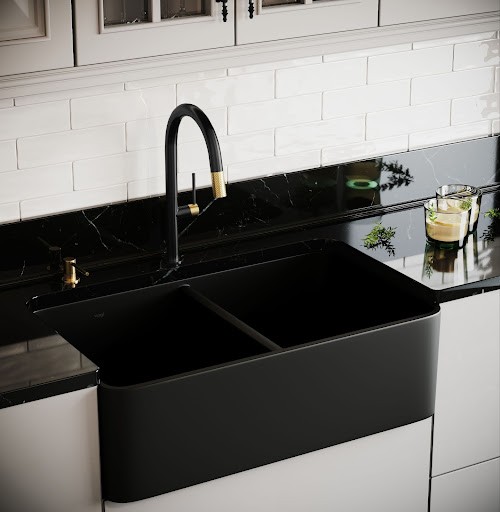 Drava Kitchen Faucet in Matte Black and Gold, paired with Vogranite Kitchen Sink
However you choose to customize your kitchen, we hope that you enjoy the process and let your unique vision shine! Your creative taste is what makes your space uniquely yours - and you deserve to showcase your style with high-quality products that make your space more functional!