If you're thinking about doing a kitchen reno, or swapping out your kitchen sink, you've come to the right place. 
Selecting the best kitchen sink involves a number of criteria, including:
Use this article as your quick guide to deciding which kitchen sink is best for your space so you can be confident that your final selection will elevate not only your kitchen, but your home. 
As the heart of the kitchen, choosing a sink is as essential to the environment's atmosphere as curating the perfect playlist for a dinner party. But selecting the ideal kitchen sink isn't solely aesthetic and emotional. There are practical elements to be considered that ground the decision, ultimately, in a sink's functionality, and how it suits your space.
Below, we're laying out the key components of our various sink options, so you can be confident that your final selection will elevate your space. 
Choosing the best kitchen sink: How to Get Started
Aesthetic 
Have you ever considered that your personality may play a role in deciding the size and material of your size? Are you the chef in your home? Do you love hosting or do you do whatever it takes to minimize dishes? Thinking about your lifestyle, personality and the overall design aesthetic of your home is critical to finding the kitchen sink of your dreams both in terms of look and functionality. 
Maintenance 
Did you know that some kitchen sinks are harder to maintain and clean than others? Both the material and installation type - whether your sink is undermount vs. top mount - play a role in how much is involved in maintaining your sink. Is your whole family responsible for dish duty? Do your counters around the sink get a lot of use? Do you enjoy keeping a spotless kitchen? It's important to understand everything that's involved in maintaining each type of kitchen sink before you invest and begin installation.
Size
While the size of your sink space may limit your options, there is still plenty to consider when it comes to whether you're looking for a single or double bowl kitchen sink. In addition to size, it's important to consider how many dishes you do by hand, whether you want a garbage disposal and the aesthetic you're looking for. Most importantly make sure you measure right! 
Deciding on the material for your kitchen sink: Stainless Steel vs. Vogranite
Stainless Steel Kitchen Sinks
Our stainless steel sinks, like our Judenburg Apron Front Kitchen Sink with Basket Strainer and Grid (perfect if you like a more transitional style), provide an easy option that is guaranteed to meet your practical needs. With Vogt's stainless steel sinks, you can choose a double or single sink - ideal for suiting a variety of spaces.
Stainless steel is a high-quality, low maintenance, affordable material that gets the job done. It's antibacterial and impervious to chips and cracks, so you know that your money is being spent wisely. 
Vogranite Kitchen Sinks
Vogranite is our unique application of granite, combined with aesthetic sink design. Vogranite is a highly durable and long-lasting material that is resistant to heat, scratching, chips and stains - meaning that it's a great low maintenance option. With 4 available finishes (Java Brown, Metropolitan Grey, Frost White and Onyx Black), Vogranite Sinks add a grounding layer of depth to the kitchen space - plus, they're eco friendly.
Both apron and undermount sinks are easy to clean, with edges that lie flush to the countertop to make wiping away waste a seamless task. Like our Bludenz Vogranite Undermount Kitchen Sink, Vogranite compliments both modern and vintage interiors.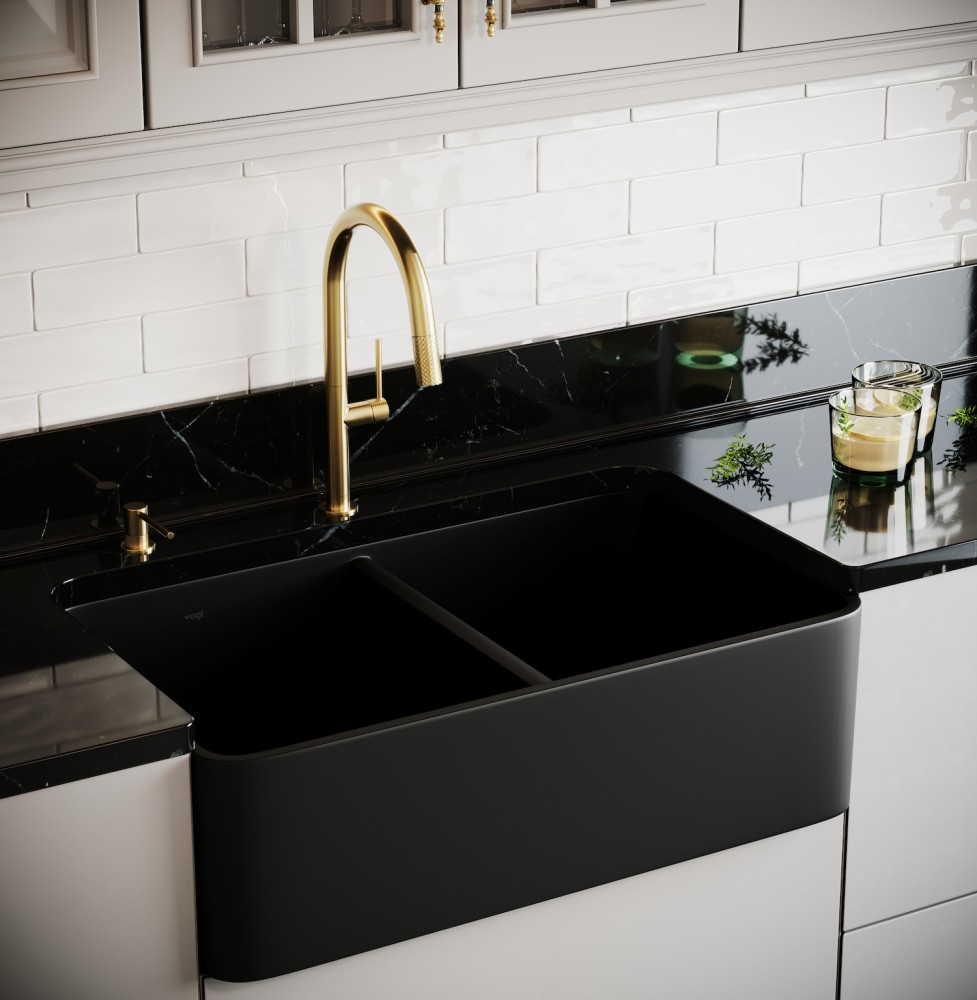 Choosing Your Kitchen Sink by Installation Method
Undermount vs. Top Mount: Which is better?  
The names say it all: a top mount sink is installed by inserting the sink into a hole cut in the countertop, whereas an undermount sink is installed from underneath the countertop. Both are great options depending on how you would like your sink to look. While the difference may sound simple enough, there are a few key factors to consider when it comes to selecting which style of sink best suits your space.
Top Mount Kitchen Sinks
A top mount sink is a great option for the DIY homeowner. However, one aspect of a top mount sink to consider is that the lip around the rim is more prone to collecting grime and dirt than an undermount sink, which has a smooth perimeter.
Undermount Kitchen Sinks
Because an undermount sink is installed by professional services, it's easy to clean and will transform your kitchen with a sleek and modern aesthetic. Ultimately, the choice is yours, depending on what your priorities are as a homeowner!
Choosing your kitchen sink based on size and design: Single or Double Bowl?
Single Bowl Kitchen Sinks
A single bowl sink has one basin with no dividers. They're ideal for smaller spaces and are a bit roomier than double bowl sinks, which means that it's easy to wash pots and pans in them. However, they aren't garbage disposal friendly, as the drain usually gets covered in dishes, and you can't separate your dishes to organize them before washing, like you can with a double bowl sink. If you live alone or have a dishwasher to break up the load, a single bowl sink might be the right fit for your space.
The two sides of a double bowl sink serve as easy compartments to sort dishes while washing, making the process more efficient. If you don't have a dishwasher, or have a large family and find yourself with a full load and a full sink of dirty dishes, then this might be the option for you. Plus, with a double sink you can install a garbage dispenser for easy mealtime clean up. 
For more sink options, visit our website and browse our lines of luxury kitchen sinks, so you can choose a style that suits the atmosphere of your magic kitchen moments.
For more inspiration for the rest of your home, check out our guide to bathroom sinks!