Installing a functional yet chic shower system is like choosing the cake at your wedding - it seems simple and everyone has one, but it's got to hold up and look good. 
Our shower systems combine functionality with aesthetic elegance. All of our shower systems are designed with your safety and comfort in mind. Built in anti-scald devices prevent sudden changes in water temperature, and our self-cleaning, anti-clog technology on the shower head and hand shower keep our units hygienic. Plus, for any components that require manual cleaning, we've got you covered, with flexible and easy-to-clean hoses that won't get hot to the touch. We also added adjustable brackets so you can adjust your shower system's height to suit your needs, and our solid brass valves and accessories are supremely durable. 
And let's not forget about the shower experience itself - with our various spray function settings, you can tailor your shower to your comfort level.
Our selection of shower systems, available to tour in person in our showroom, makes this choice a leisurely, luxury activity rather than a mind-numbing chore. Below, we're breaking down the merits of our top shower systems, so you can find your ideal unit for your home. 
An Antau (Shower) A Day
The Antau Collection is the height of modernity. With its sleek, streamlined design, the collection's minimal curves are exquisitely poised and refined. The Antau shower system perfectly compliments a more structural, modern space, and it adds a smoothness to more whimsical, bohemian bathrooms. Shop in our showroom in person or online on our website! 
Available in a stainless steel finish, the Antau shower system melds durable design with balanced harmony, adding a modern finish to your bathroom experience.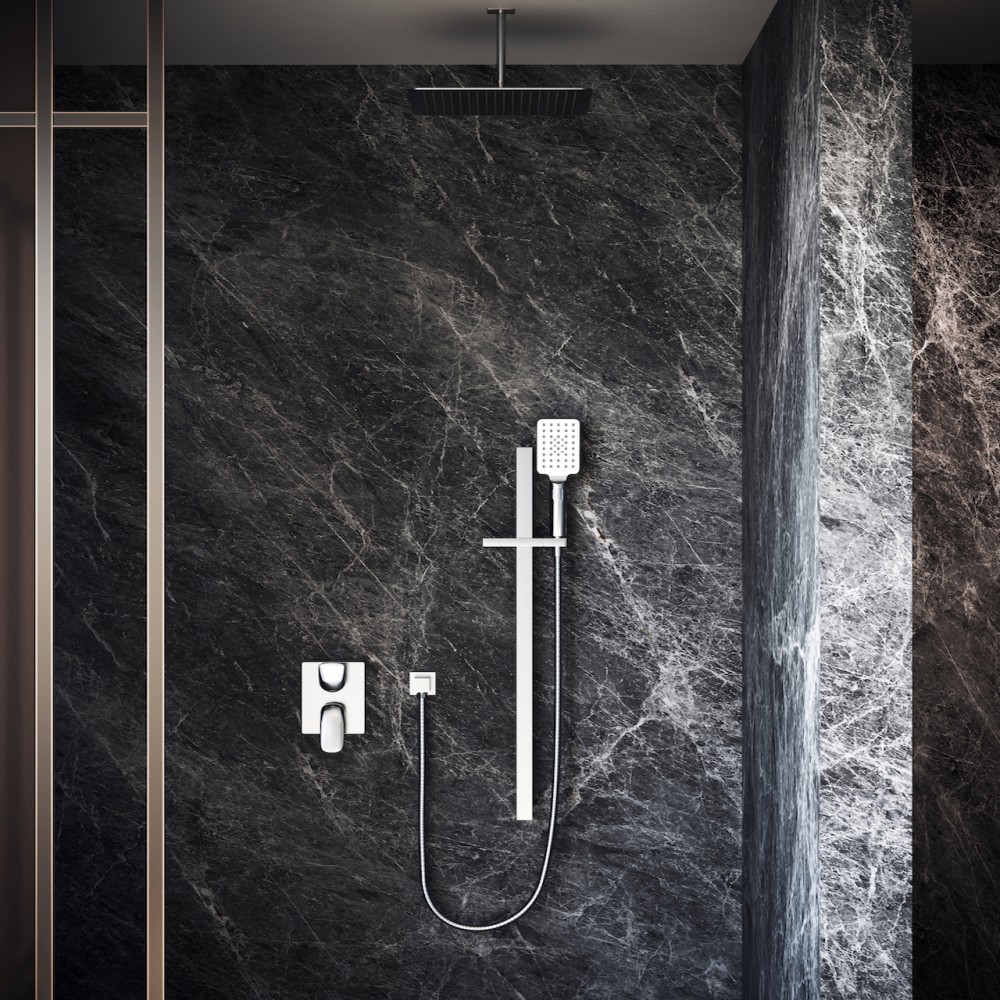 Antau Shower System 
 Drava Adds the Drama
Luxuriously upgrade your shower experience with the Drava shower system. From its water saving technology to matte black and chrome finish with criss cross detailing, the Drava shower system's design is in the details. 
And touching on 2023's top bathroom design trends, the Drava system's gold accents are in line with the chicest details we'll be eyeing this year. The system's brushed gold finish creates a timeless look that will stand the test of time. This finish will bring a touch of contemporary luxury, elegance and warmth into your home.
Keep it Contemporary with Kapfenberg
The Kapfenberg shower system, available in a smooth, matte black finish, is structured, bold and ultra-mod. It's architectural design adds depth and mature complexity to your shower space, elevating your wellness experience to the next level of elegance.