Many do not realize the importance of the kitchen triangle. And if you're wondering what a kitchen triangle is, you might be one of them—but that's okay because we're going to cover the role of a kitchen triangle in the blog post
Your kitchen work triangle is the logical positioning of fixtures that allow easy cleaning, food preparation, and cooking. The kitchen work triangle establishes distinct areas for each basic job by creating an optimal work area to minimize the distance and effort needed to work productively in the kitchen.
Because of its conventional design to simplify meal prep and preparation, the kitchen working triangle will always prevail. A time-tested kitchen design guideline creates attractive layouts while establishing effective kitchen workspaces with clear traffic channels. They control kitchen activity by placing essential operations in key work areas and focusing on the stove, oven, sink, and refrigerator. Architects believe these three locations and their imaginary lines form the work triangle.
By putting these three places in proximity to one another, the kitchen will be easier to use and less wasteful. The home chef should be able to freely move between the prep, cook, and storage areas without being too far or close.
A Sink and Faucet's Role in the Kitchen Triangle:
The water hub—the sink and faucet—takes up 60% of kitchen time. Vogt's water-efficient Drava faucets, paired with the eco-friendly Vogranite sink, create balance in the busiest area. Thanks to cutting-edge design and carefully selected material developments, a new Vogranite sink and Drava faucet for your kitchen makeover can improve efficiency and space. 
Sustainable Sink Design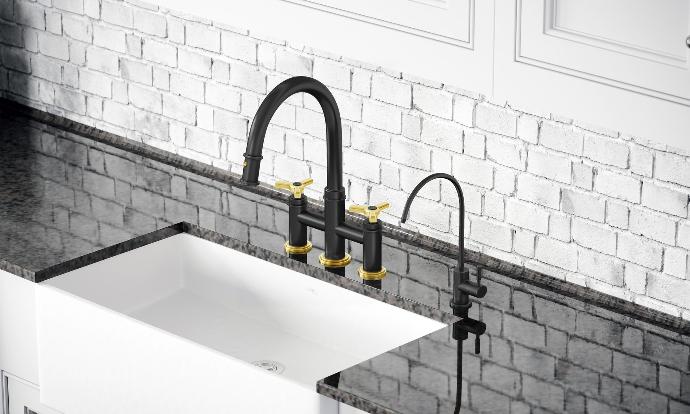 While you might be set on the design of your water hub, you must still answer some key questions to ensure the best installation of your faucet and sink for optimal usage. Decisions and preferences may have far-reaching effects. Sinks and faucets should be included in all key remodel design selections. If you prefer an undermount sink, you should make your interior designer or contractor aware early so they can install it before the countertops. Measure the space around your sink to ensure your selections fit. And if you have cabinets over the sink, you want to determine the right placement for your faucet — to do this, measure from the deck plate to the bottom of the upper cabinet. Don't wait until the plumber installs the faucet only to discover it's too tall.
Function

A kitchen makeover is a perfect opportunity to revisit and fix any issues with your sink setup, from trivial to significant. Does sink time hurt your back or neck? Repeated reaching and overextending might wear you out. Install your Vogranite sink at a height that supports mobility. Unlike the Drava Vogranite pairing, mismatched sinks and faucets can cause splashing around your sink. A small sink with a tall or "high-arc" faucet that extends 8-10 inches above the basin propels water. Also, consider a pot filler — pot fillers minimize the amount of carrying heavy pots by allowing you to fill them right at the stove.
SINK SIZES. BIGGER ISN'T BETTER.
I know we said size does matter, but what is more important is function. Some jobs benefit from a large sink, while others don't. Consider your sink's primary use. An enormous farmhouse sink is ideal for washing vegetables and filling large pots. That may be excessive for a sink to rinse glasses or plates in a small Toronto condo. 
Sink Configuration:
HOW MANY HOLES IS YOUR SINK OR COUNTER?
Most sinks include one to many pre-drilled holes for various faucet fixtures and "extras." If your dream faucet setup requires more holes than available, you'll need to add holes, which is possible but may require extra preparation if you're using an existing countertop.
Installation Types
Kitchen sink installation has two methods. Drop-in sinks are dropped into a countertop cutout with the lip on the countertop. This cheaper and simpler installation method is standard. Undermount sink installation places the sink's lip below the countertop instead of on top. This choice is more modern and may be worth more when selling your property.
Vogranite Sink Collection
Vogranite sinks come in Four (4) different finishes: 
Onyx Black

Metropolitan Grey 

Java Brown

Frost White 
Vogt Vogranite quartz composite sinks are sourced from the finest German materials and hand-baked to perfection with a stain and heat-resistant finish. They are also resistant to chips and scratches with a non-porous surface that does not support bacterial growth. They do not require special cleaners, making them eco-friendly and easy on your wallet. Vogranite sinks boast deep bowls and versatile installation capabilities.

Vogranite sinks are prized in the design community for their unsurpassed durability and easy-to-clean surface. Vogranite sinks are a beautiful way to incorporate colour without sacrificing strength or style.
Bottom Line
Vogranite sinks and Drava faucets work together to form a functional and aesthetically pleasing kitchen triangle. By incorporating these Vogt products in your home, you are helping to create a more sustainable future.