When it comes to design, sustainability means minimizing your impact on the environment through your choices and actions as a consumer and homeowner. Below, we're breaking down the importance of designing an environmentally friendly home, and how you can make your space more sustainable with quality products and design. 
What does sustainable design mean? 
We know that sustainable design is about adding environmentally friendly products, materials, accessories and fixtures to your home, as well as designing your space to be eco-friendly. Eco-friendly design focuses on energy efficiency, waste reduction and longevity - but more on that later. The real question is how do you incorporate this into your home without compromising your daily life? Here's what you need to know. 
There are a few key components to sustainability that will help you to be more environmentally friendly and conscientious.
The 3 R's of Sustainability 
1. Reduce.  
2. Reuse. 
3. Recycle. 
Reduce how much you contribute to landfills by swapping single-use products for higher quality, investment items that you can reuse over and over (for example, ditch a water-jug dispenser in your kitchen for an eco-friendly faucet). Not only will this help to reduce your waste production, it will save you money by not having to repurchase the same item over and over. And if you do have to use products that can't be reused, make sure that you recycle the excess material and packaging! Recycling conserves energy and natural resources, and it reduces pollution and greenhouse gases. 
While the short term benefits of sustainable design can make your life more efficient (ie, rather than lugging a water jug into the kitchen once a week, simply turn on the tap) the long term benefits will make your life easier for years to come. Often, sustainably designed products are crafted in more durable materials such as wood or stainless steel, which are long-lasting, meaning that your investment will hold up over time.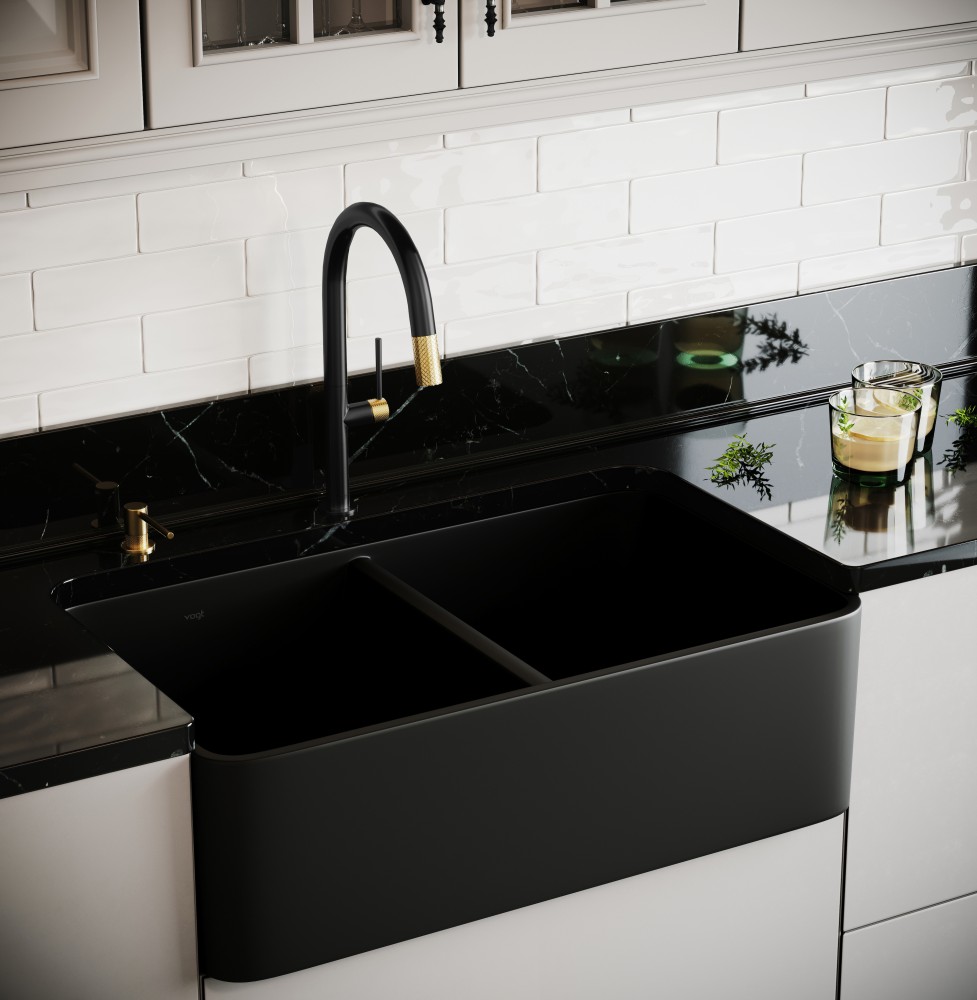 Vogt's Drava kitchen faucet in matte black and gold is an elegant and eco-friendly kitchen addition
 Why does sustainability in design matter?
Sustainable design supports the health and wellbeing of your home, while saving you money in maintenance fees long-term. Plus, you can craft a unique design vision with natural products (ie. no two pieces of wood are the same, making the planks you select for your floors one-of-a-kind). 
Sustainable design saves you money. 
Rather than using cheap materials that aren't energy efficient (and wasting your time and money on constant repairs and hydro costs), invest in eco-friendly, quality products and materials that will last for years to come. 
While investing in these materials may cost you more upfront than their lower quality counterparts (ie. a cheap plastic sink vs a long-lasting china sink) the lack of maintenance fees will save you money in the long term.
Rather than having to replace your sink multiple times because it's made of cheap materials that wear away with time, opt for a style of sink like Vogt's Vogranite kitchen sinks! Vogranite is a unique, long-lasting material that is resistant to heat, scratching, chips and stains. Eco-friendly and stylish, Vogt's Vogranite sinks are chic, environmentally conscious and aesthetically pleasing.  Plus, upgrading your space (particularly your kitchen and bathroom) helps to boost your home's resale value.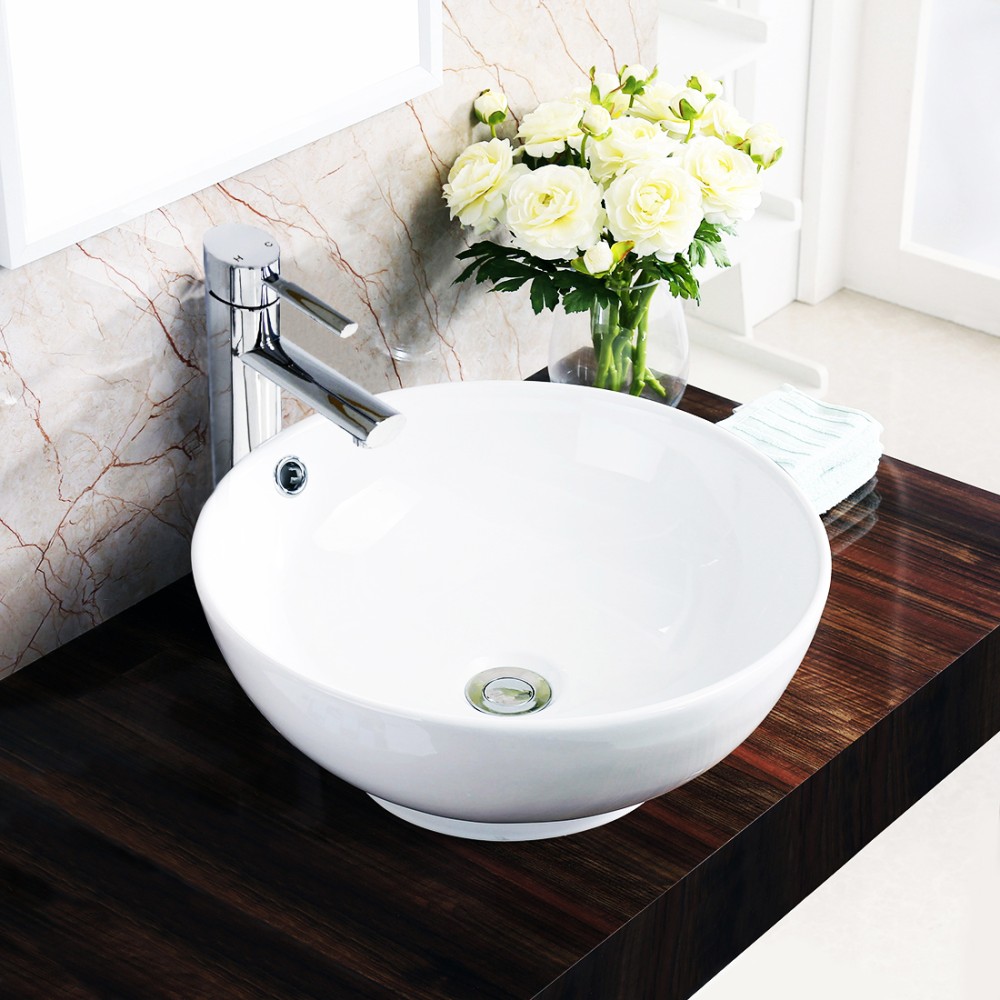 The Durn Vitreous China Vessel sink is an artistic centrepiece - and it's sustainable
 It improves the quality of your home & living experience. 
Not only does an environmentally friendly home benefit the planet, it also supports the health and wellbeing of you and your family. From swapping chemical filled cleaning products for eco-friendly, natural alternatives to using non-toxic cookware, there are countless easy switches that you can make to improve the quality of your environment while making your space more "green." Be sure to look out for phosphates, 2-BE and TSC on your next shopping trip for cleaning supplies, as these toxic chemicals can be harmful. Instead, opt for vinegar, baking soda and bleach - natural products that get the job done. 
Easy swaps and switches aside, designing your home to be eco-friendly can mean making some worthwhile changes. For example, upgrading your doors and windows to ensure that they seal properly and don't waste heat is essential to any healthy home. Most homes lose 40% of their heat through doors and windows, costing you up to $340 a year. 
It benefits the environment. 
Sustainable design prioritizes long-term environmental protection. By using natural materials, cutting back on energy costs with environmentally-friendly designs and reducing your home's waste, you help to conserve the planet's natural resources and minimize your impact on the Earth.
How can you implement sustainable design in your home? 
The keys to sustainable design 
Energy efficiency 
Energy efficient design means choosing products that will last longer and conserve power and natural resources. Why not make critical swaps in the areas of your home that you use the most, like your kitchen and bathroom? Installing water-saving faucets is an impactful choice you can make that will help the environment and save you money! 
Vogt's environmentally friendly plumbing products are manufactured to save natural resources, and our water-efficient faucets are no exception! Vogt's water-efficient Drava faucets are chic and functional, decreasing your water usage and making your kitchen and bathroom look and feel luxurious. 
Smart home accessories & eco-friendly materials
There are a range of smart-home accessories that can help to improve your home's sustainability, from LED lights that save electricity to smart thermostats that will help to efficiently control your home's temperature. Accessories and additions aside, the materials that make up your home are at the heart of what makes it environmentally friendly. Using natural and non-toxic materials, such as natural woods, concrete, stone and bamboo for your countertops, cabinetry, walls and flooring ensures that your home is built on a healthy foundation. Be sure to steer clear of toxic and cheap materials, like plastic, so you don't compromise the quality of your space. 
When it comes to your kitchen and bathroom, you can trust Vogt's high-quality design. The materials that we use, including chrome, stainless steel, polished nickel, brushed gold, and more, are built to last and maintain their elegant finishes without rusting or eroding. 
Focus on long-lasting design 
This brings us to a key component of sustainable design - longevity! There are numerous  benefits to investing in high-quality products that are designed with long-lasting materials. These products look more chic, polished and luxurious than their cheap, plastic counterparts, but their sustainable construction isn't all about aesthetics. They also tend to function more smoothly, making your life easier on a daily basis. It's like investing in a green smart car and being able to drive along smoothly without worrying about stopping for gas, versus constantly draining your money putting gas into an old jalopy. When you invest in high quality design, you save yourself time, money and a headache!
Feeling empowered to make your home more eco-friendly? Check out our website for more energy-efficient products that will elevate your home's style!